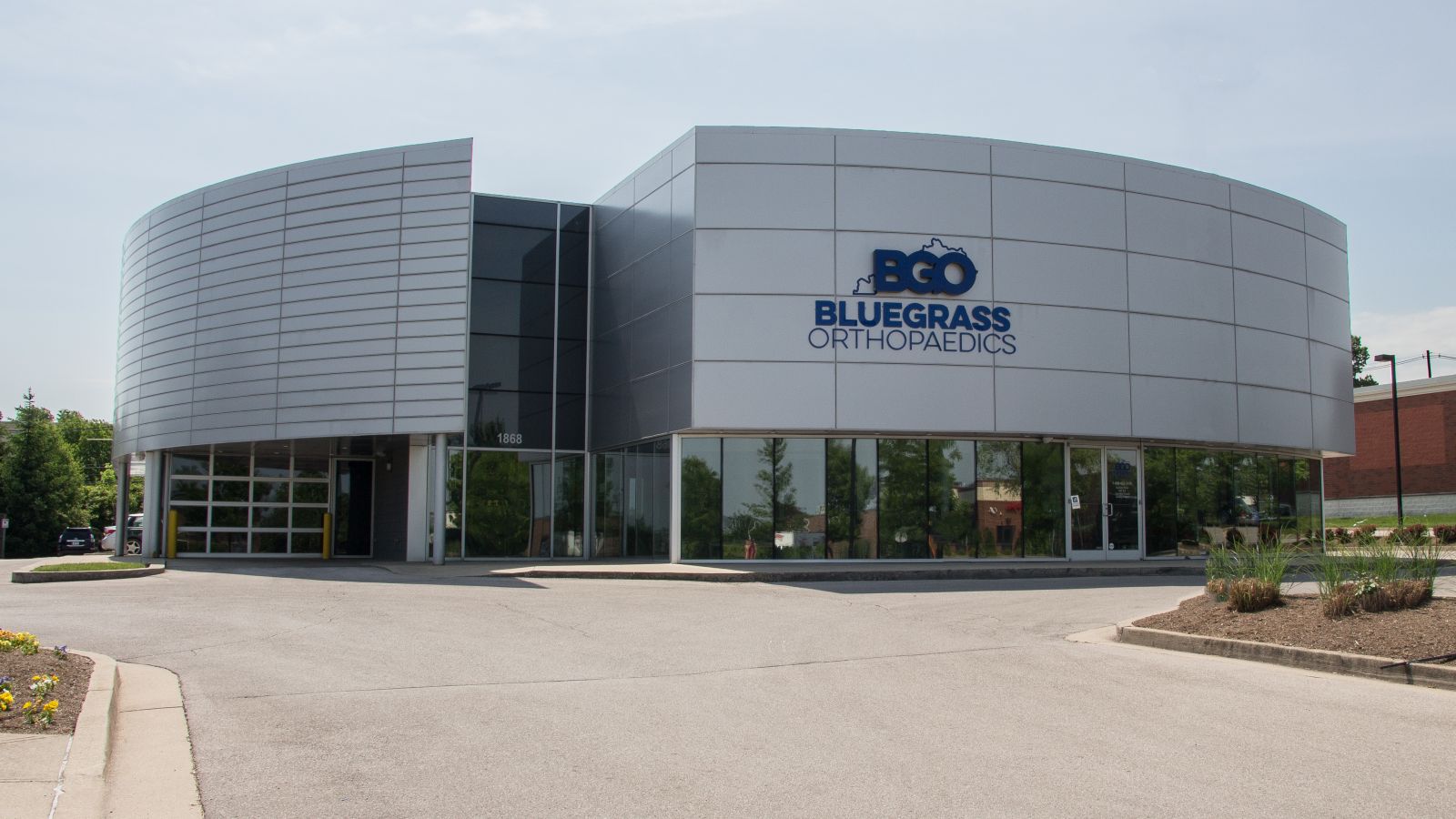 Sports Medicine

Rehabilitation
Your health is one of the most important aspects of your life. Taking care of yourself allows you to lead an active lifestyle. At Bluegrass Orthopaedics Sports Medicine Rehabilitation, our therapists believe you deserve the best physical and sports therapy treatment available. Since opening, our doctors and staff have earned a reputation for excellence in all types of diagnosis, treatment and management. Most importantly, we have earned the trust of people who live and work in the greater Lexington area.

Our specialists at Bluegrass Orthopaedics Sports Medicine Rehabilitation are highly experienced in the assessment and treatment of sports and orthopaedic injuries with expert knowledge of biomechanics, tissue pathology and healing. They carry out thorough assessment, treatment and rehabilitation for all musculoskeletal injuries:

Overuse injuries and stress fractures
Muscle tears, tendon and ligament sprains
Knee, ankle and foot injuries
Shoulder injuries, tennis/golfer elbow, hand and wrist pain
Bluegrass Orthopaedics Sports Medicine Rehabilitation offers a wide array of services tailored to the individual needs and goals of our patients. We are equipped with the most advanced technologies to enhance the rehabilitation process. If you are injured on the job, we have the tools and expertise to help you recover so you can get back to being productive and pain-free as soon as possible.
We Can Help
Trust The Best
Sports-related injuries from trauma, overuse or family history can keep you sidelined longer than necessary if not treated quickly and appropriately. At Bluegrass Orthopaedics, Sports Medicine Rehabilitation is as individual as your needs, whether you participate in high-level competition or just want to be able to walk the stress away on a pleasant day. When a sports injury occurs, you want to get back to normal as quickly as possible. Whether it's volleyball or tennis, football or soccer, our expert team of sports medicine physicians are available to treat sports injuries immediately, the right way.

Many people enjoy an active lifestyle which can sometimes result in injuries. No matter how an injury occurs, it can be frustrating to a person who views physical activity as an important part of their life. If you are dealing with a sports-related injury, it can be difficult to understand and navigate new terms being used to describe what's wrong and what's going to happen next.

Focused on the diagnosis, treatment, rehabilitation and prevent of sports-related conditions, Bluegrass Othopaedics Sports Medicine Rehabilitation treats athletes of all levels including amateur and college athletes. With radiology and physical therapy services located on site, our state-of-the-art facilities streamline your sports medicine treatment and rehab in order to help you return to activity.

Bluegrass Orthopaedics Sports Medicine Rehabilitation is a friendly facility where we provide individualized treatment and focus primarily on the quality of medical care. We strive to alleviate pain, correct the problem and improve function as quickly as possible. We are conveniently located in Lexington, Kentucky where we treat a wide variety of conditions and disorders. We offer convenient hours and same and next-day appointments for patients who are in acute pain. If you experience any pain or discomfort, Bluegrass Orthopaedics Sports Medicine Rehabilitation is here to help.

Sports medicine rehabilitation is a subspecialty of Bluegrass Orthopaedics that focuses on the rehabilitation of injuries caused by athletic injury. The goal of treatment is to decrease patients' pain and rehabilitate their injury so they can return to their sport quickly, safely and with the same level of skill as they had prior to the injury. Sports medicine rehabilitation can be beneficial to anyone that has suffered from a sports-related injury or exercise-induced condition.