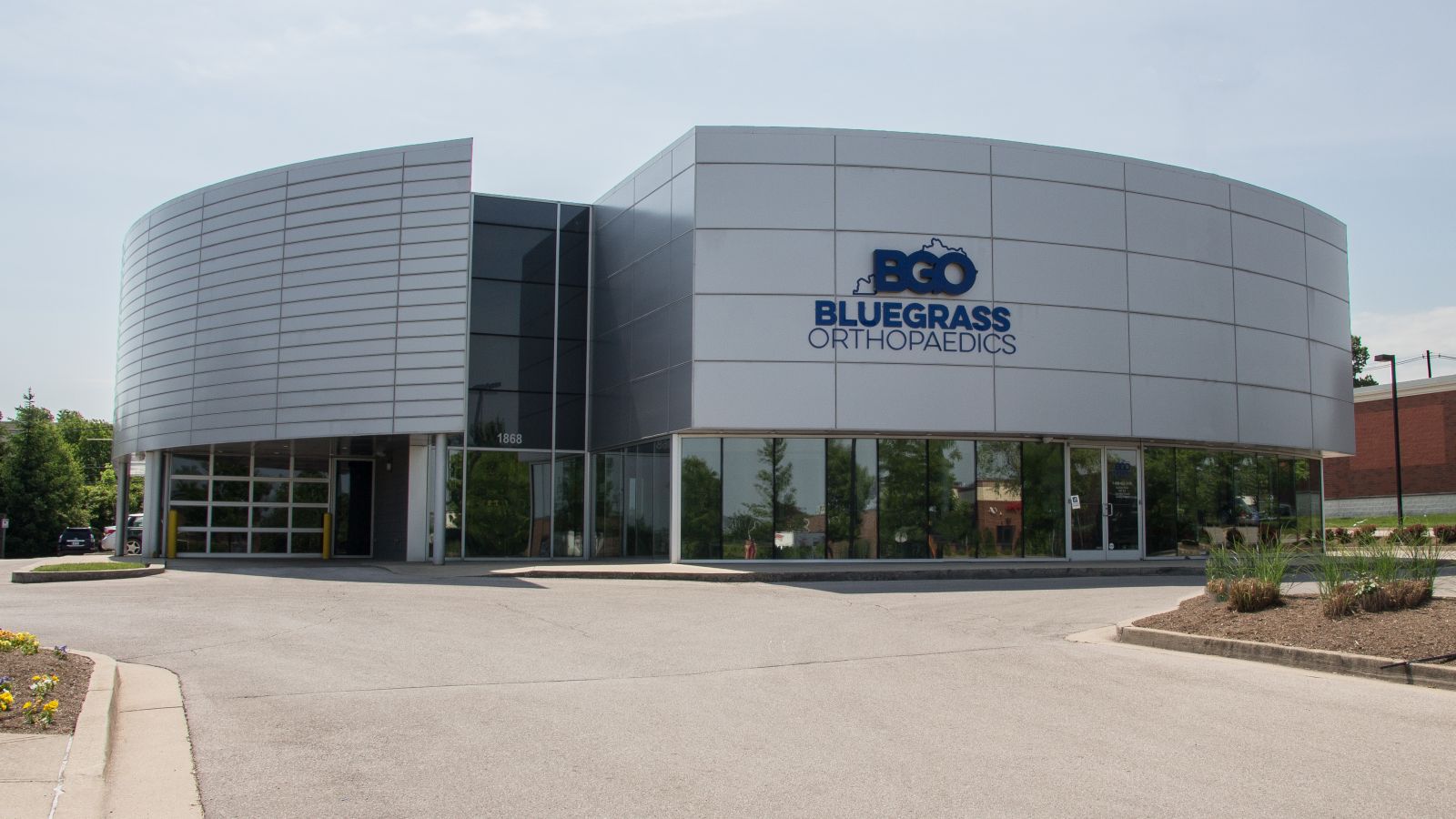 Best Orthopaedic Surgeons
When looking for the best Orthopaedic surgeons in Lexington, look no further than Bluegrass Orthopaedics. The wear and tear that occurs in your joints, muscles and tendons can lead to symptoms that make daily activity painful. If you are experiencing joint pain, difficulty with movement or an injury, you may need to see one of our orthopaedic specialists at Bluegrass Orthopaedics. Our board-certified surgeons treat disorders of the musculoskeletal system and take pride in helping you return to a level of pain-free activity. We review all treatment options from surgery to medicine and to physical therapy to develop a plan to help you feel better.
At Bluegrass Orthopaedics, our approach to patient care is firmly rooted in the belief that a thorough and thoughtful history and physical examination is, and will always be, state-of-the-art in medicine and surgery. Expensive diagnostic tests and imaging studies are used when appropriate and only as confirmatory adjuncts in the diagnostic process. As a patient of Bluegrass Orthopaedics, you can be certain that all non-operative measures will be thoroughly explored prior to embarking on a surgical solution to your pain or injury.

Our Bluegrass Orthopaedics surgeons are prepared to provide you with positive results. We offer consultations, diagnosis and treatment options for all orthopaedic conditions for both male and female patients of all ages. Due to each individual patient's unique health care needs, each of our patients has a customized care plan. We combine compassion and respect with premier medical and surgical care. This approach, coupled with the expertise of our board-certified orthopaedic physicians and dedicated staff, qualifies us to provide the very best care possible. In addition, for our patients' convenience, our office is equipped with on-site digital x-ray equipment and personnel who will make sure you are comfortable during your visit.
We Can Help
Trust The Best
Bluegrass Orthopaedics treats a variety of orthopaedic conditions for adults and children, including:

Shoulder injuries: rotator cuff, labrum and instability
Knee injuries: ligament, cartilage, tendon and meniscus injury

Arthritic conditions of the upper and lower extremities

Spine, neck and back pain

Conditions of the foot and ankle: cartilage and tendon injuries

Elbow injuries and traumatic tendon injuries

Fractures of the upper and lower extremities

Hand conditions: carpal tunnel, trigger finger and fractures

Workers Comp injuries

Shoulder and elbow pain occur for many reasons. Arthritis, injury and repetitive motion are leading causes of shoulder and elbow pain resulting from conditions like rotator cuff tears and tennis elbow. Our highly experienced orthopaedic surgeons are experts in diagnosing and treating the full range of shoulder and elbow conditions.

The hand and wrist are made up of numerous complex components. From simple to complex conditions of the hand and wrist, our specialists focus on every detail to ensure positive outcomes.

Hip and knee pain are among the top health complaints. That's because they bear the weight of your body every day. If hip or knee pain is keeping you from doing what you love, see the physicians at Bluegrass Orthopaedics. From sports or work related injuries to falls and osteoarthritis, Bluegrass Orthopaedics can help relieve your hip or knee pain.

Regardless of your orthopaedic concern, your situation or your age, you have an entire team of the best orthopaedic surgeons in the region and top-notch staff working for your health at Bluegrass Orthopaedics.