Bluegrass Orthopaedics' is very thankful to acknowledge the latest Comeback Champion – Kevin McGarry. After years of competitive sports, golf, and the infamous yard work and house projects, Kevin's left shoulder became painful in early 2009. Kevin was able to do some conservative treatment for some time, but in the Summer of 2018, Kevin knew it was time to see the physician.
An MRI that summer showed the supraspinatus tendon was completely severed and the bicep tendon was compromised. "I was in some level of pain, and could not sleep due to this," Kevin recalls. In October, Dr. Ryan Donegan performed an arthroscopic rotator cuff surgery with acromioplasty and bicep tenotomy.
"The entire PT Team at BGO was great during my rehab. Brenda Underwood (PTA) became my go-to therapist – she did a great job working to get my range of motion back and then my strength. She really encouraged me … After 3 1/2 months from surgery, I regained full range of motion and most of my strength. I am looking forward to my annual golf trip to Scottsdale this April with my 3 long time buddies. Many thanks to Dr. Donegan, Cheslee Bloyd (PA-C), and the BGO PT Team!"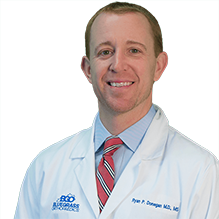 To learn more about BGO's shoulder and elbow specialist, Dr. Ryan Donegan, click here!