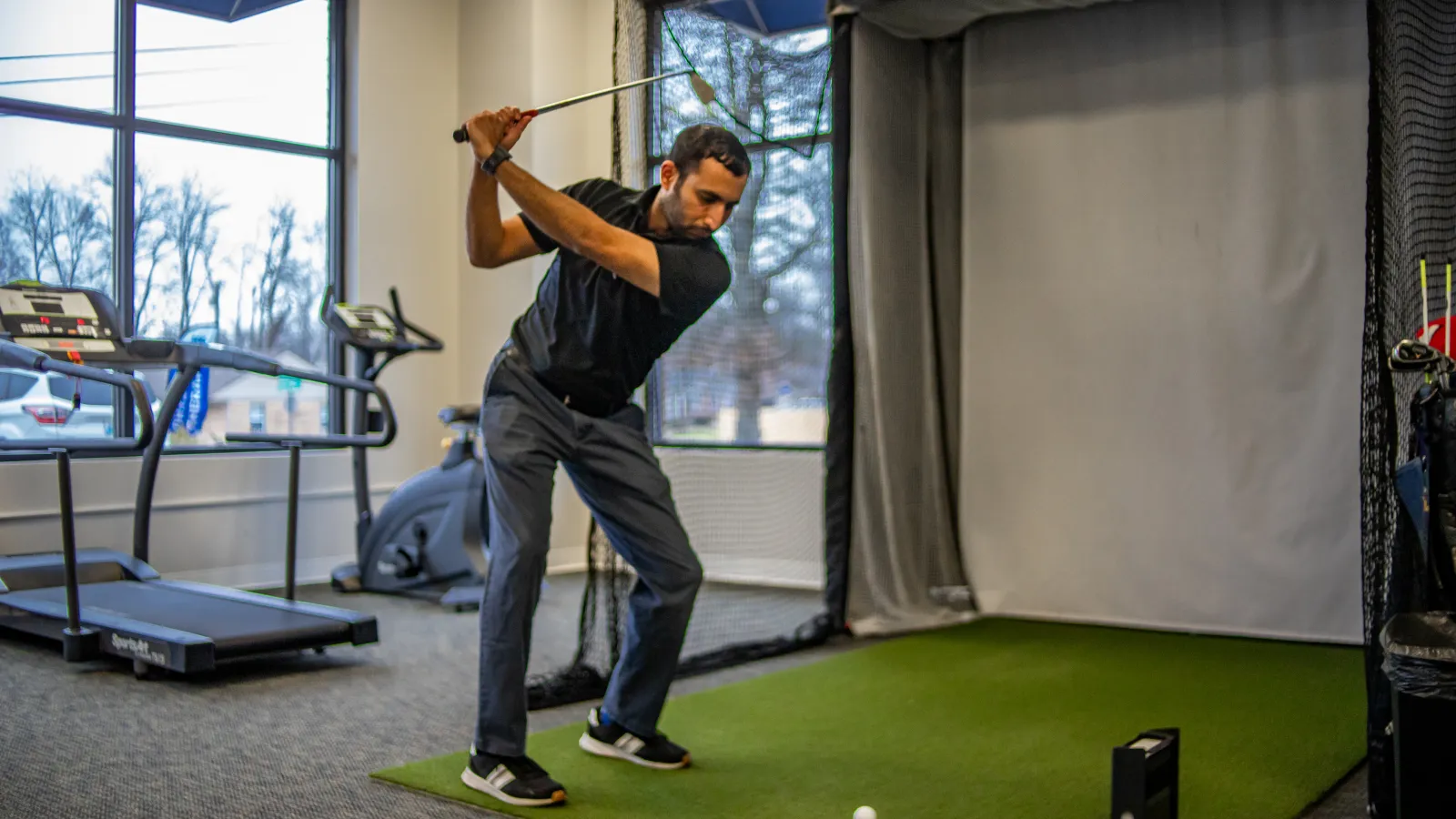 Golf Performance Program
Play Better Golf!
What is the secret to golf? The secret is that there is no secret! Golf is a sport that requires hard work and practice in order to improve. The secret to practicing is practicing correctly! So how do you know what to practice or what to work on? That is where being evaluated by a TPI professional can help improve your game.

What is TPI?
TPI or Titleist Performance Institute is a system developed by Titleist that analyzes an individual's golf swing and body structure to help improve the efficiency of that individual's golf swing. Titleist is one of the world leaders in the golfing industry and they have developed a system that analyzed thousands of golfers and golf swings, from the top tour professionals to the "weekend warriors." Their theory - Most golf swing flaws are caused by body structure inefficiencies. What does that mean? Most swing flaws are caused by muscle inflexibility, lack of strength, or lack of stability. These are inefficiencies that can greatly hamper the effectiveness of the golf swing. But the great news is these are problems that can easily be fixed. Developing a properly functioning body will allow a player to swing a golf club in their most efficient way possible. The goal is not to radically change your swing, but to improve your fitness and mobility to make your swing more efficient - Thus making golf easier and a whole lot more fun!

Golf Swing Analysis
At BGO Physical Therapy, an individual can be evaluated by a certified TPI medical professional, who is not only familiar with body structure but also with the mechanics of the golf swing. The physical assessment analyzes 13 movement patterns that are important to the golf swing. The screening will identify physical limitations and imbalances that may cause you to have one or more of Titleist's twelve swing faults. Once evaluated, a workout plan will be created to address body structure flaws for that individual. BGO has a SkyTrak golf simulator where individuals can see real results from inside a controlled area.

Our golf analysis includes:
Titleist Performance Institute Physical Assessment
Swing analysis using slow motion video
Club and ball flight simulation data using the Skytrak Flight Simulator
Golf Performance
We use the information from your TPI Evaluation and Golf Swing Analysis, as well as any history of previous injuries, to develop a comprehensive Golf Performance program. Our team of golf performance physical therapists can identify any potential areas of concern or rehabilitate an active injury.

Our bodies are also impacted by our posture and daily activities. As we age, this can become cumulative and start to limit your swing. Is your handicap slowly creeping up? This may be why.

Using a combination of soft tissue mobility, manual therapy, advanced strengthening, and dynamic stabilization drills, we work with you to optimize your body and maximize your swing. We want to give you the same treatment as PGA Tour professionals.

Restore and maintain golf-specific mobility with manual therapy, soft tissue massage, and flexibility techniques
Work on your back, hips, and arms with specific corrective exercises and dynamic stability drills
Reduce pain and return from injury with performance-based physical therapy
Titleist Performance Institute Pricing
$75.00
One hour TPI Evaluation
$55.00
One hour workout session
$35.00
Thirty minute workout session