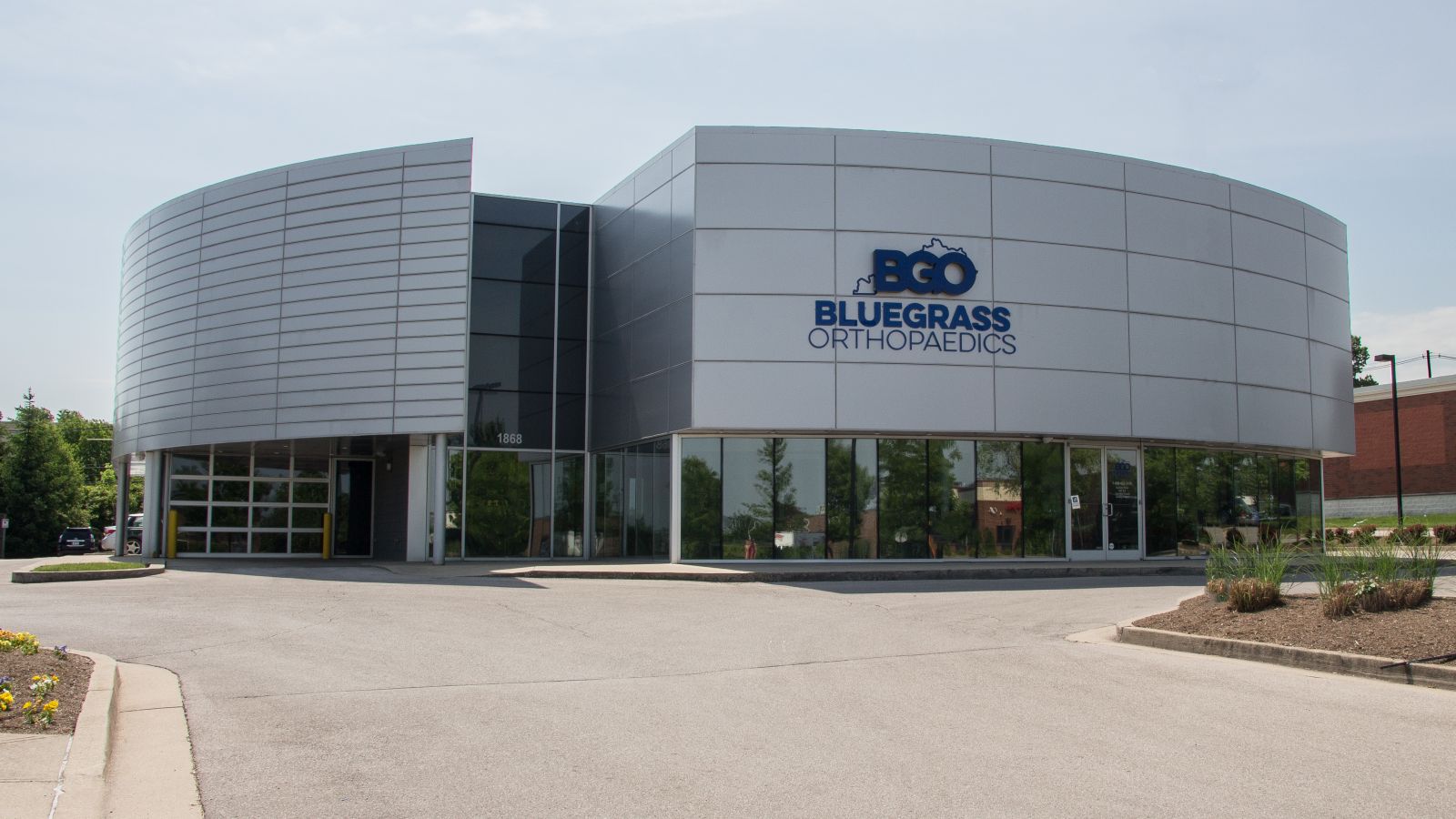 Hip Replacement Surgery
Lexington KY
When looking for hip replacement surgery in Lexington, KY, look no further than Bluegrass Orthopaedics. We provide the absolute highest-quality orthopaedic care. Bluegrass Orthopaedics specializes in hip replacement surgery and we're proud to be the best rated in our area.

The hip is the largest ball-and-socket joint in the body and is made for repeated motion and a good amount of wear and tear. Despite its natural durability, age and overuse can cause severe and even debilitating issues.

Hip replacement surgery in Lexington, KY has increased in recent years for various reasons including more active lifestyle, increased life expectancy and higher retirement age. When non-surgical treatment for hip pain or loss of range-of-motion is not successful, surgery may be required. Whether it's hip joint replacement, hip resurfacing, hip arthroscopy or a total hip replacement, you can count on the board certified specialists at Bluegrass Orthopaedics

Hip replacement surgery is a common procedure that involves removing diseased or damaged bony structures in the hip socket and replacing them with new, artificial parts. Anterior hip replacement is usually a minimally invasive procedure, meaning it uses a small incision, placed along the front of the hip. The orthopaedic surgeons at Bluegrass Orthopaedics can provide all the information that you need to make an informed decision and to have a successful procedure and recovery. In general, a hip replacement is done to restore function to the hip joint. This minimally invasive approach typically results in less pain and a faster recovery. An anterior incision is also easier to care for after surgery, because you can see it better than an incision on your buttock or the side of your hip.

You may be a candidate for anterior hip replacement if:

Less invasive treatments, such as over-the-counter pain medications, physical therapy and weight loss have not improved your hip pain and dysfunction
Imaging tests reveal moderate or severe hip osteoarthritis or general wear and tear of the hip joint
Your hip dysfunction impairs your ability to perform activities of daily living such as walking or standing
We Can Help
Trust The Best
The orthopaedic surgeons at Bluegrass Orthopaedics can provide you with excellent hip replacement surgery in Lexington, KY. They can suggest the best course of treatment and can educate you on the right procedure for you. The decision to have surgery depends on multiple factors, including age, health, level of activity and the amount of pain you are experiencing. Bluegrass Orthopaedics offers multiple joint replacement approaches for patients who require a hip replacement.

Things to know about hip replacement surgery:

The majority of patients who undergo this procedure experience a significant reduction in pain. This procedure also delivers improved movement and strength of the midsection and legs.
Hip joint damage that leads to the need for surgery comes from a variety of conditions. Osteoarthritis is the most common cause of this joint damage.
Hip replacement surgery is not a permanent fix. There is no guarantee that this procedure will last forever.
Hip replacement surgery can be successful for both younger and older individual. In the past, this surgery was primarily performed for those people over the age of 60, but advancements in materials, techniques and understanding make hip replacement surgery possible for younger people.
Total hip replacement surgery in Lexington, KY is a permanent solution that can greatly improve the quality of one's life by eliminating hip stiffness and pain while increasing motion. This frees someone previously struggling with hip pain to return to their normal, daily activities. Schedule an appointment at Bluegrass Orthopaedics and get your life back to normal from hip pain.