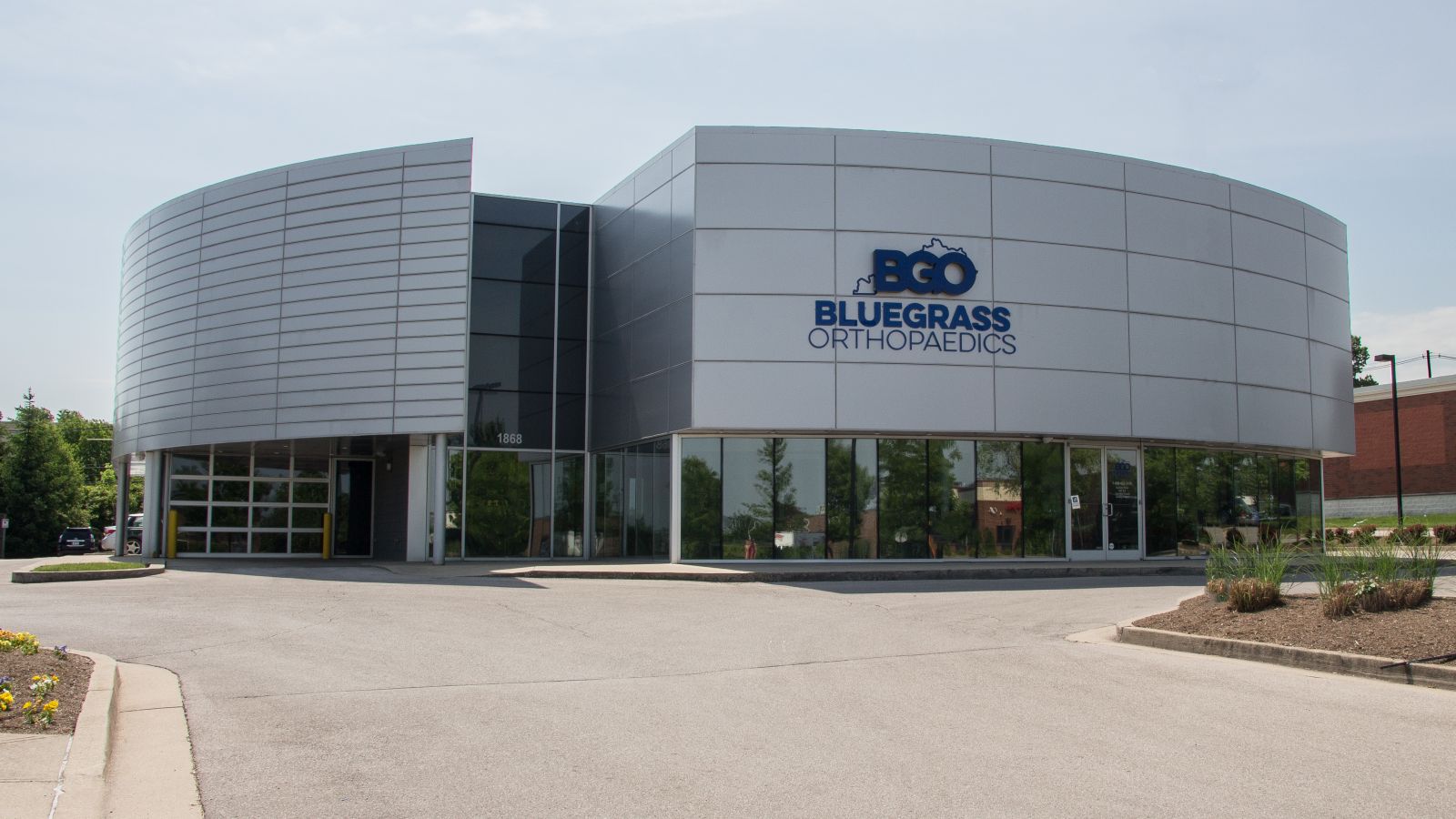 Knee Pain Specialists

Lexington KY
At Bluegrass Orthopaedics, we are committed to providing the highest standard of care for patients. Knee pain is a common condition affecting a wide range of people. Pain in the knees can result from an injury, an infection or a medical condition such as arthritis. Treatment for knee pain depends on its cause and how severe the pain is. Our orthopaedic specialists can offer personalized treatment plans, including surgical and non-surgical options, after a physical examination and assessment.

Chronic knee pain is long-term pain, swelling or sensitivity in one or both knees. The cause of your knee pain can determine the symptoms that you experience. Many conditions can cause or contribute to chronic knee pain and many different treatments exist. Each person's experience with chronic knee pain is different.

Our orthopaedic surgeons at Bluegrass Orthopaedics are committed to providing compassionate care for knee pain. We offer:

Emphasis on prevention
Seamless chain of care
Top-tier specialists
Faster, more advanced surgery
Knee pain symptoms can be different for different people. You may feel knee pain constantly or it may come and go. You might experience back or knee pain or feel stiffness instead of pain.

You should schedule an appointment at Bluegrass Orthopaedics if you experience any of the following symptoms:

Acute pain
Soreness
Redness and swelling in and around the knee
Stiffness and inability to fully straighten the leg
Knee instability
Popping, crunching and clicking sounds when you move or bend your knee
Inflammation
Fever, which can be a sign of infection
We Can Help
Trust The Best
Knee pain can occur from injury, overuse or medical conditions that affect joint health such as arthritis. Common risk factors include:

Repetitive motion from exercise such as jogging or work
Aging
Obesity
Weight-bearing activity
Family history of arthritis
Knee pain is a common complaint affecting people of all ages. This may be the result of an injury or due to medical conditions such as arthritis, gout and even infection. The knee joint is made up of bones, ligaments, tendons, cartilage and bursae. Injury or inflammation to one of these structures can lead to bone and joint pain in the knee. Bone and joint pain in the knee may occur following years of wear and tear playing sports, working or from general leisure.

The knee pain specialists in Lexington, KY at Bluegrass Orthopaedics provide a full spectrum of care for knee conditions. We're dedicated to finding the treatment options that work best for you and your goals. We offer non-surgical and surgical treatment options for knee pain to get you back to the activities you enjoy. If non-surgical efforts are exhausted without success, knee surgery may be needed to treat your condition.

Approximately 18 million patients visit a doctor or hospital each year because of knee pain. Fortunately, there are many ways to successfully treat knee pain and get back to an active lifestyle. The team at Bluegrass Orthopaedics are recognized as among the best in the region for knee assessment and repair. We use a multidisciplinary team approach with all of the experts you need under one roof. With a broad range of treatment options, state-of-the-art diagnostics and years of experience, Bluegrass Orthopaedics can evaluate the cause of your knee pain and determine the treatment that is best for you.

Knee pain is common in people of nearly all ages. Sometimes, the symptom can be associated with the natural aging process, while other people experience chronic pain as a result of a sports-related injury. To determine the most appropriate treatment option for you, the first step is to have our team at Bluegrass Orthopaedics help you develop a personalized treatment plan to address the problem. The knee pain specialists in Lexington, KY are conveniently located at Bluegrass Orthopaedics, with offices on Richmond Road, in Hamburg and in Georgetown.