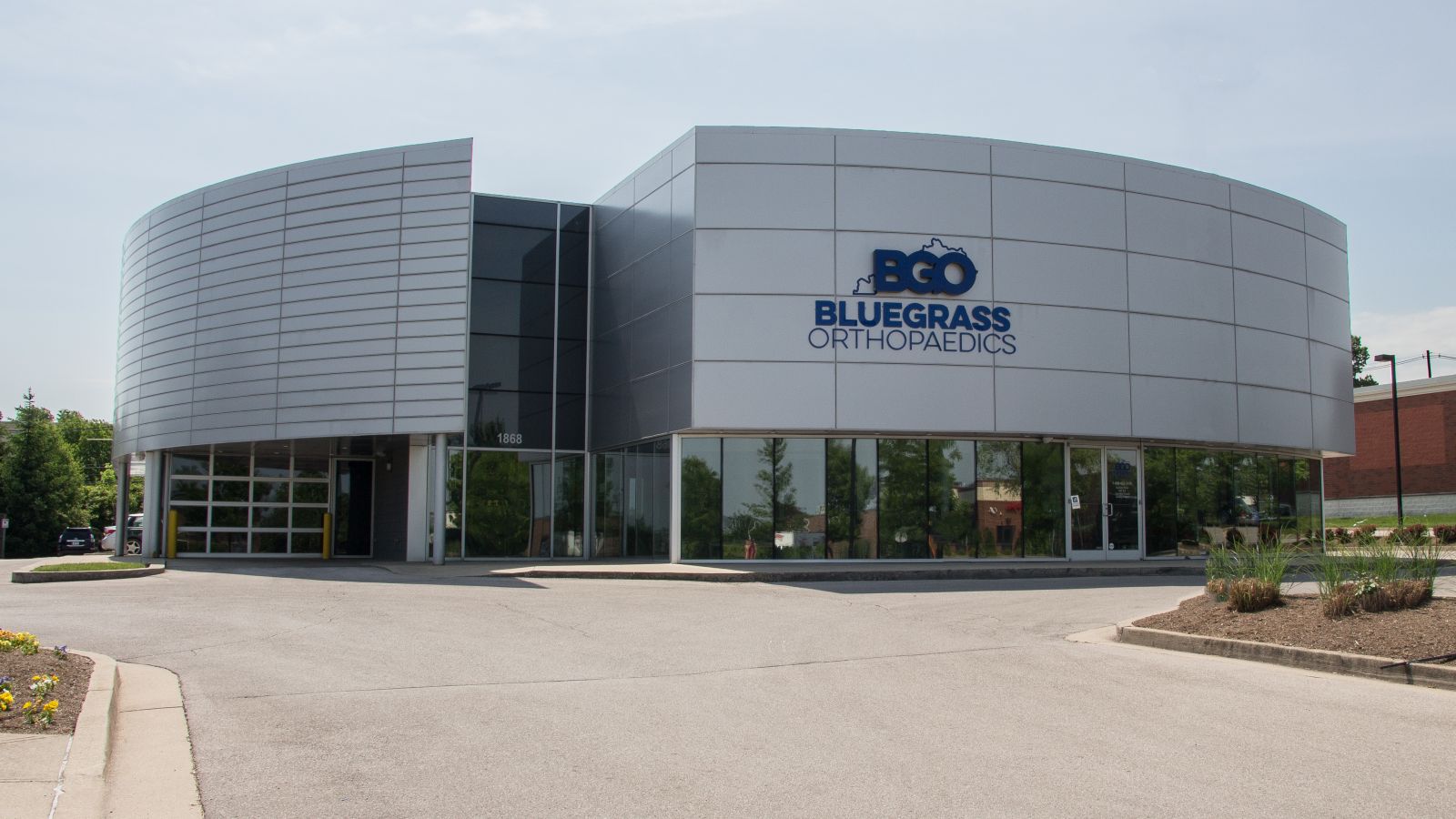 Sports Medicine Facilities
Lexington KY
When looking for sports medicine facilities in Lexington, look no further than Bluegrass Orthopaedics Sports Medicine. Bluegrass Orthopaedics Sports Medicine provides injury evaluation and orthopaedic surgery, including minimally invasive options. Our surgeons specialize in the following areas: foot, ankle, knee, hip, hand, elbow, shoulder, spine and wrist.

Sports Medicine is a branch of orthopedics at Bluegrass Orthopaedics Sports Medicine facilities in Lexington. Whether you have torn your rotator cuff or you simply can't figure out why your knees hurt when you run, you can turn to our experienced sports medicine doctors to help. Our specialists help our patients regain strength, improve mobility and eliminate pain.

A few of the common sports-related injuries we treat at our Bluegrass Orthopaedics Sports Medicine facilities in Lexington are:

Acute traumatic or chronic injuries such as dislocations, bone fractures and ligament damage
Anterior cruciate ligament (ACL) tears
Evaluation and treatment of fractures
Joint dislocations
Ligament and cartilage injuries
Repetitive and overuse injuries such as tendonitis or bursitis
Sports-related back injuries
Sport-specific injuries in athletes of all ages
Sprains and strains
We Can Help
Trust The Best
Our highly regarded staff at Bluegrass Orthopaedics features an all-star team of fellowship-trained specialists. While sports medicine physicians care for high-level athletes, we also specialize in active seniors and the wellness of athletes of all ages. At our Sports Medicine facilities in Lexington our team of orthopaedic specialists work closely together to evaluate and treat sports injuries. Our services include:

Evaluation and treatment within 24 to 48 hours of an injury
Treatment and casting of fractures
Arthroscopic and reconstruction surgery, including ACL surgery
Custom and off-the-shelf athletic braces
Physical rehabilitation services including physical therapy
Sport-specific strength training and conditioning
Easy access to other orthopaedic specialties
Expedited, advanced diagnostic imaging services
The Bluegrass Specialties Surgery Center (BSSC) was developed by the Bluegrass Orthopaedics physicians in order to offer the safest and highest quality outpatient surgical care. By utilizing all modern technologies and medical advances, our surgical division provides patients an alternative choice of location for their elective outpatient surgeries. Since opening in 2006, the Surgical Division has provided Bluegrass Orthopaedics patients with a warm, welcoming environment.

Bluegrass Orthopaedics Sports Medicine is highly experienced in the assessment and treatment of sports and orthopaedic injuries, with expert knowledge of biomechanics, tissue pathology and healing. Our surgeons assess, treat and rehabilitate all musculoskeletal injuries.

Our orthopaedic surgeons at Bluegrass Orthopaedics work closely to ensure all problems are thoroughly evaluated and all treatment options are considered. We care for the whole person to ensure a speedy recovery. Our doctors use minimally invasive procedures whenever possible to reduce pain and decrease recovery time.

By utilizing the latest evidence-based physical therapy treatment methods that meet specific problems, we will assist you in meeting your goals and returning you to a healthy lifestyle. From the moment you enter our sports medicine facilities in Lexington, you will feel the caring environment and the genuine concern we have for getting to know our patients and meeting their personal health goals. We take pride in watching our patients advance through their physical therapy treatments and sports medicine programs and progress toward the reasonable restoration of their pre-injury condition.

Our sports medicine facilities in Lexington at Bluegrass Orthopaedics are structured for the total care of athletes and active individuals. Our goal is to provide comprehensive services including diagnosis, treatment and rehabilitation. When it comes to the best sports medicine facilities in Lexington, look no further than Bluegrass Orthopaedics Sports Medicine.