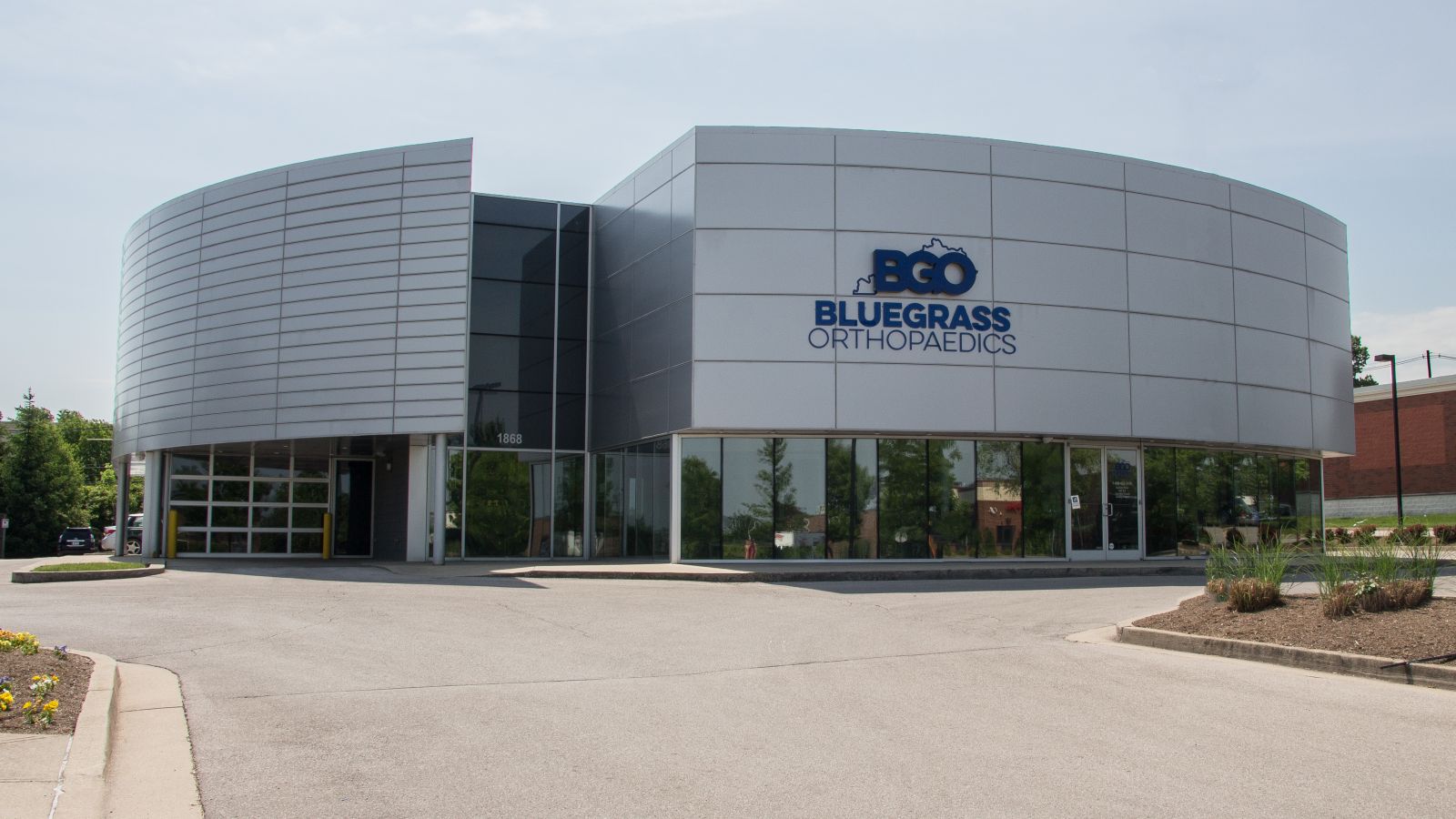 Sports Medicine
Kentucky
Physically active people can be especially susceptible to orthopaedic injuries and problems. Bluegrass Orthopaedics Sports Medicine Kentucky is regionally recognized for sports medicine in Kentucky. Our team of board-certified orthopaedic surgeons offers you the most sophisticated level of orthopaedic care. Our doctors at Bluegrass Orthopaedics will recommend nonsurgical treatments, such as rest and physical therapy, whenever possible. From rotator cuff tears, meniscus tears, finger injuries and golfer's elbow to sprained ankles and fractures, our orthopaedic doctors provide a seamless continuum of care from evaluation and treatment to rehabilitation and return to play.

The orthopaedic surgeons at Bluegrass Orthopaedics Sports Medicine Kentucky perform state-of-the-art arthroscopic surgery of the shoulder, elbow, hip, knee and ankle. Arthroscopic surgery is a procedure that allows surgeons to see, diagnose and treat problems inside a joint without having to open the joint. Arthroscopy uses only small incisions to insert a tiny viewing instrument and very thin surgical instruments. Because only small incisions are used, you can expect less pain and bleeding, decreased risk of infection and a faster recovery time.

Our on-site diagnostic and imaging center at Bluegrass Orthopaedics Sports Medicine Kentucky provides us with immediate information to help diagnose your orthopedic or sports medicine condition. Our on-site rehabilitation facilities allow you to receive the treatment you need at one location. From sprains, strains, fractures, arthritis and trauma to complex musculoskeletal injuries from automobile crashes, Bluegrass Orthopaedics Sports Medicine is the place you need to go to for exceptional orthopaedic care.

The specialty of sports medicine relates to improving the performance and well-being of the physically active person. At Bluegrass Orthopaedics Sports Medicine Kentucky, our specialists focus on sports-related injuries, treating a variety of conditions such as:

ACL tear
Hamstring strain
Ankle sprain
Meniscal tears
Rotator cuff tear
Tennis elbow
Patella tendonitis
Shoulder tendonitis and bursitis
We Can Help
Trust The Best
Our orthopaedic surgeons at Bluegrass Orthopaedics Sports Medicine Kentucky concentrate on the careful care of our patients with sports and trauma-related injuries, arthroscopic surgery and joint replacement. We focus on diagnosing, treating, rehabilitating and avoiding injuries and diseases of the musculoskeletal system. Our practice ensures our patients will recover as quickly and thoroughly as possible. Bluegrass Orthopaedics has the best team of surgeons in place to carry out your surgery with the utmost respect and care.

The physicians at Bluegrass Orthopaedics Sports Medicine Kentucky deliver first-class orthopaedic and sports medicine care to people throughout Central Kentucky. We understand that most of our patients have one thing in common: pain. Bluegrass Orthopaedics Sports Medicine provides comprehensive care to people of all ages and walks of life. We are dedicated to giving our patients' individualized attention and we strive to provide the finest orthopaedic care available in a friendly environment.

We appreciate the trust people have placed in Bluegrass Orthopaedics Sports Medicine Kentucky. Our goal is to meet the needs of each of our patients with compassion, excellence and convenience. We look forward to exceeding your highest expectations. Our facilities are able to provide excellent healthcare services.

Sports Medicine Kentucky is Bluegrass Orthopaedics located on Richmond Road in Lexington, in Hamburg and in Georgetown, Kentucky.