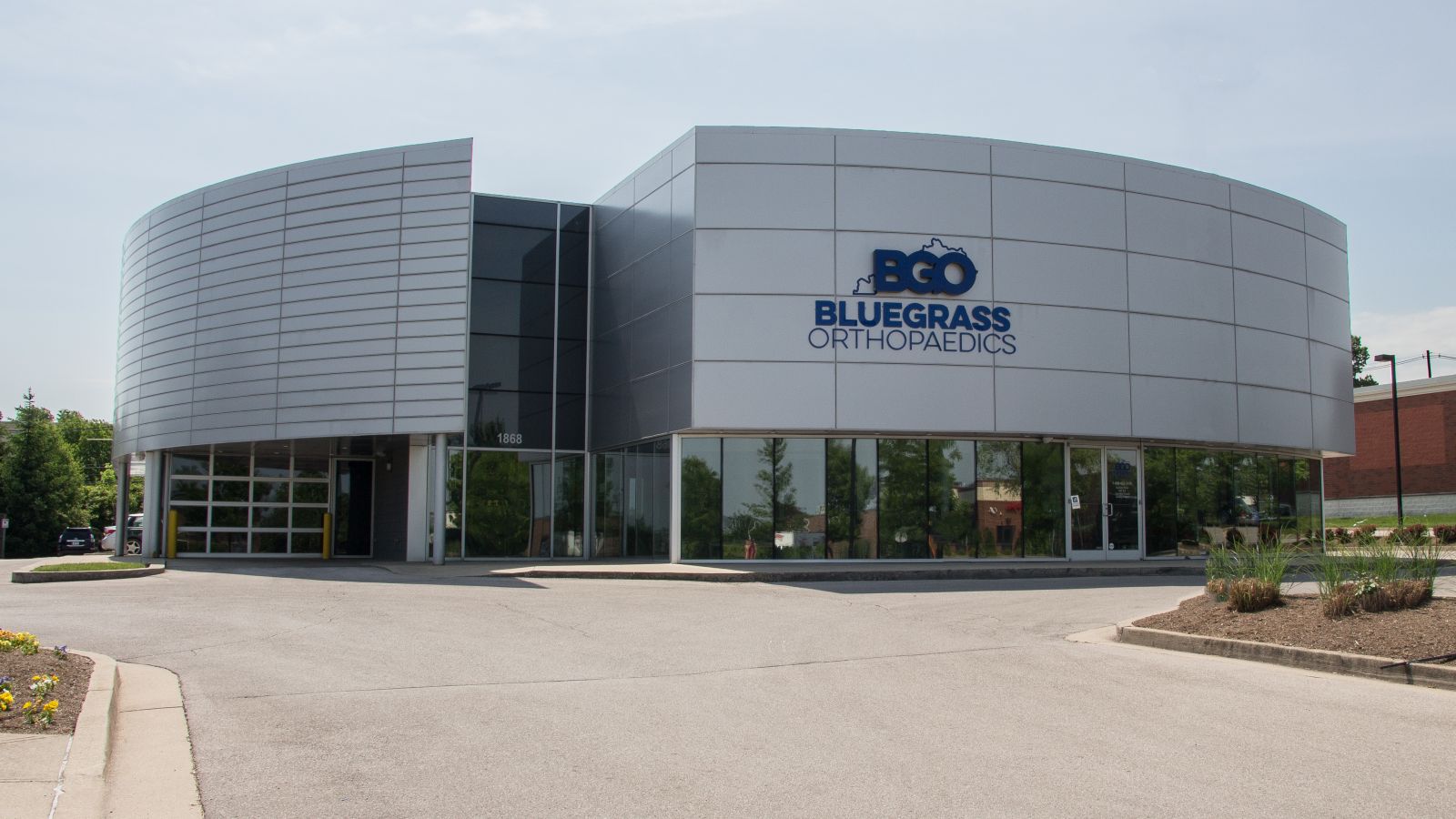 Sports Medicine
Lexington
If pain or injury is keeping you out of the action, our sports medicine Lexington experts can develop a treatment plan to get you back to your active lifestyle. The sports medicine team at Bluegrass Orthopaedics specializes in caring for your bones, muscles and connective tissues. We evaluate and treat sports-related injuries of the knee, shoulder, hip and elbow in athletes of all ages. Our comprehensive team can also help you rebound after a sports-related foot and ankle or hip surgery.

Is pain keeping you from the activities you love? It doesn't have to. Bluegrass Orthopaedics Sports Medicine Lexington has the experts needed to get you back in the game. We have an entire team of board certified doctors who specialize in all areas of the body from fingers to toes. Whether you're a weekend warrior or professional athlete you can trust Bluegrass Orthopaedics to bring you back to life at full speed. Bluegrass Orthopaedics provides a full range of services for sports injuries.

Our orthopaedic surgeons at Bluegrass Orthopaedics Sports Medicine Lexington concentrate on the careful care of our patients with sports and trauma-related injuries, arthroscopic surgery and joint replacement. We focus on diagnosing, treating, rehabilitating and avoiding injuries and diseases of the musculoskeletal system. Our practice ensures our patients will recover as quickly and thoroughly as possible. Bluegrass Orthopaedics has the right team of surgeons in place to carry out your surgery with the utmost respect and exceptional care.

Fortunately for many of our patients at Bluegrass Orthopaedics Sports Medicine Lexington, not every patient needs surgery. We try to treat injuries without surgery first, using activity modification, injections and more. If you do not need surgery, we fully discuss all of the nonsurgical options. Our goal is to help you get back to the sport, exercise and work you love to do.

Sports medicine conditions that we treat at Bluegrass Orthopaedics in Lexington include:

Acromioclavicular sprains
Anterior cruciate ligament (ACL) tear
Arthritis
Bicep tendon tear
Brachial plexus injuries
Bursitis
Cartilage injuries
Concussion
Degenerative joint disease
Fractures
Hip abductor tears
Knee ligament injuries
Meniscus injuries
Multi-ligament injuries
Rotator cuff injuries
Rotator cuff tears
Rotator cuff tendon problems
Runner's knee
Shin splints
Shoulder dislocations
Shoulder impingement
Sprains
Strains
Stress fractures
Tendonitis
Tennis elbow
We Can Help
Trust The Best
At Bluegrass Orthopaedics, we understand your athletic passions - soccer or kickball, golf or jogging, tennis or volleyball, gymnastics or cheerleading, football or baseball. We know exactly what to do when your favorite sport throws you a curve. Our Bluegrass Orthopaedics Sports Medicine Lexington team provides state-of-the-art injury prevention, treatment, surgery and rehabilitation for athletes of all ages and skill levels.

The physicians at Bluegrass Orthopaedics Sports Medicine Lexington deliver first-class orthopaedic and sports medicine care to people throughout Central Kentucky. We understand that most of our patients have one thing in common: pain. Bluegrass Orthopaedics Sports Medicine Lexington provides comprehensive care to people of all ages and walks of life. We are dedicated to giving our patients individualized attention and we strive to provide the finest orthopaedic care available in a friendly environment.

Bluegrass Orthopaedics Sports Medicine Lexington doctors are here to help prevent, treat and rehabilitate injuries for athletes of all ages. Athletic injury is never fun, but taking the time to get properly healed with the help of our experienced sports medicine physicians is extremely worthwhile in the long run.