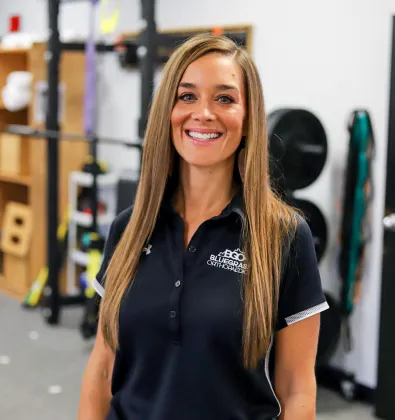 Liz Ellis, PT, DPT
Brannon Crossing Clinic Director
Liz Ellis first earned her bachelors of Family and Consumer Sciences from the University of Kentucky in 2007. Then, in 2011, also from the University of Kentucky, earned her Doctorate of Physical Therapy (DPT), affectionately giving her the renowned title: Dr. Liz (to which Dave refers to her daily). In 2018, she became a Certified Cancer Rehab Specialist secondary to her interest in treating special cases. Her clinical interests include manual techniques, orthopedic conditions, post surgical rehab, and sports injuries. She is dedicated to providing individualized patient care in order to assist patients in meeting their return to activity goals.
In her free time, she enjoys spending time with her two lovely children (4 year old Anderson and 19 year old Taylor) and their 3 fur babies (Zeke, Zoey, and Zander). She also enjoys spending time at Keeneland watching the horsies and ponies dash around the racetrack, cheering on her beloved UK WildC-A-T-S, and vacationing to the beach as often as possible.