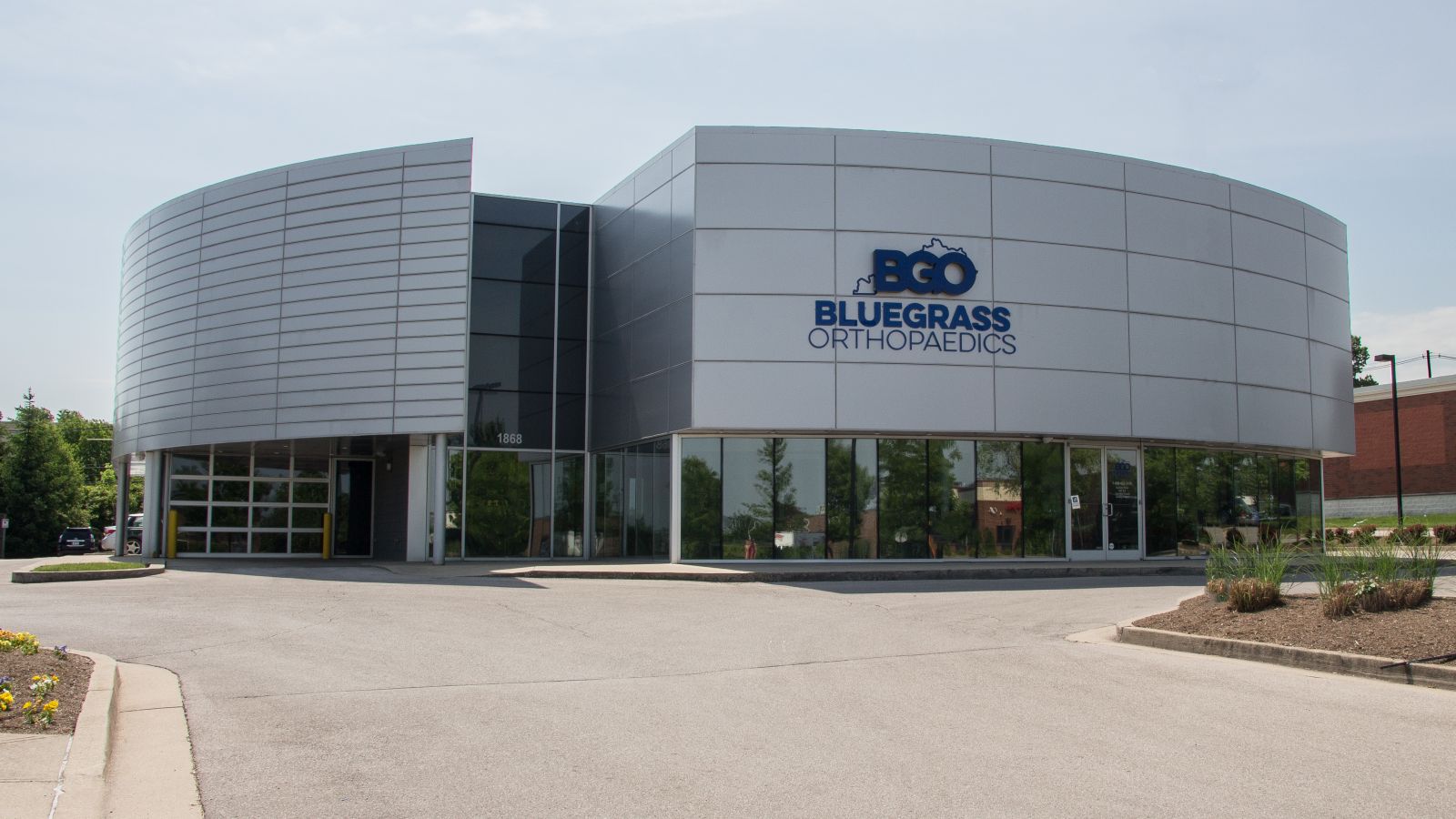 Total Hip Replacement
Lexington KY
Bluegrass Orthopaedics provides total hip replacement in Lexington, KY and the absolute highest-quality orthopaedic care. Bluegrass Orthopaedics specializes in hip replacement surgery and we're proud to be the rated best in our area.

Hip pain can be the result of a condition that has developed over time, such as bursitis and arthritis, or of a recent hip injury, such as a fracture or dislocation. The most frequent causes for pain in the hip can be related to an orthopaedic condition that has emerged over time. Signs and symptoms of hip pain include:

Joint pain felt in the front of the hip, along the outside of the hip, in the groin or over the buttock area
Discomfort and swelling in the thigh and knee
Joint inflammation or hip muscle spasms
Limping or the inability to walk comfortably on the affected side
Inability to bend or rotate the hip
Soreness and the feeling of hip throbbing while sleeping or resting
Fever, redness and warmth, which are signs of infection
The surgeons at Bluegrass Orthopaedics have the training, expertise and experience to assess, diagnose and treat your injury or condition individually to your needs. The hip joint is called a ball-and-socket joint because the ball-like top of the thigh bone moves within a cup-like space in the pelvis. The ball-and-socket joint, the body's largest, fits together in a way that allows for fluid movement. The hip is designed to withstand repeated motion and a fair amount of wear and tear. With age and arthritis, the cartilage can wear down or become damaged. Muscles and tendons in the hip can get overused. Any of these conditions can lead to hip pain or problems.

We Can Help
Trust The Best
There are other common hip problems that our orthopaedic surgeons at Bluegrass Orthopaedics cam discuss with you, including:

Bursitis and tendon injuries
Developmental Dysplasia
Hip fracture
Hip problems - people 12 and older
Hip problems - children
The orthopaedic surgeons at Bluegrass Orthopaedics can help you with your hip pain and total hip replacement in Lexington, KY. They can suggest the best course of treatment and can educate you on the right procedure for you. The decision to have surgery depends on multiple factors, including age, health, level of activity and the amount of pain you are experiencing. If your hip pain is severe and causing mobility issues, you may be a candidate for hip replacement. Bluegrass Orthopaedics offers multiple joint replacement approaches for patients who require a hip replacement.

If your orthopaedic surgeon at Bluegrass Orthopaedics determines that conservative treatments have failed or that your degeneration is severe, surgery may be indicated. A total hip replacement can be extremely beneficial for those with severe degeneration of the hip and can give a patient mobility if they have been disabled by hip pain. Over 300,000 Americans receive hip replacement surgery each year and are able to get back to their daily lives because of it. Hip replacement will replace the deteriorated joint with an implant that replicates how the original hip moves and functions.

The orthopaedic surgeons at Bluegrass Orthopaedics reinforce that you don't have to live with hip pain or let it put a limit on your activities. Schedule an appointment at Bluegrass Orthopaedics and get your life back to normal from hip pain. Total hip replacement in Lexington, KY is one of the five best surgeries in all of medicine. Patients love their new hips.