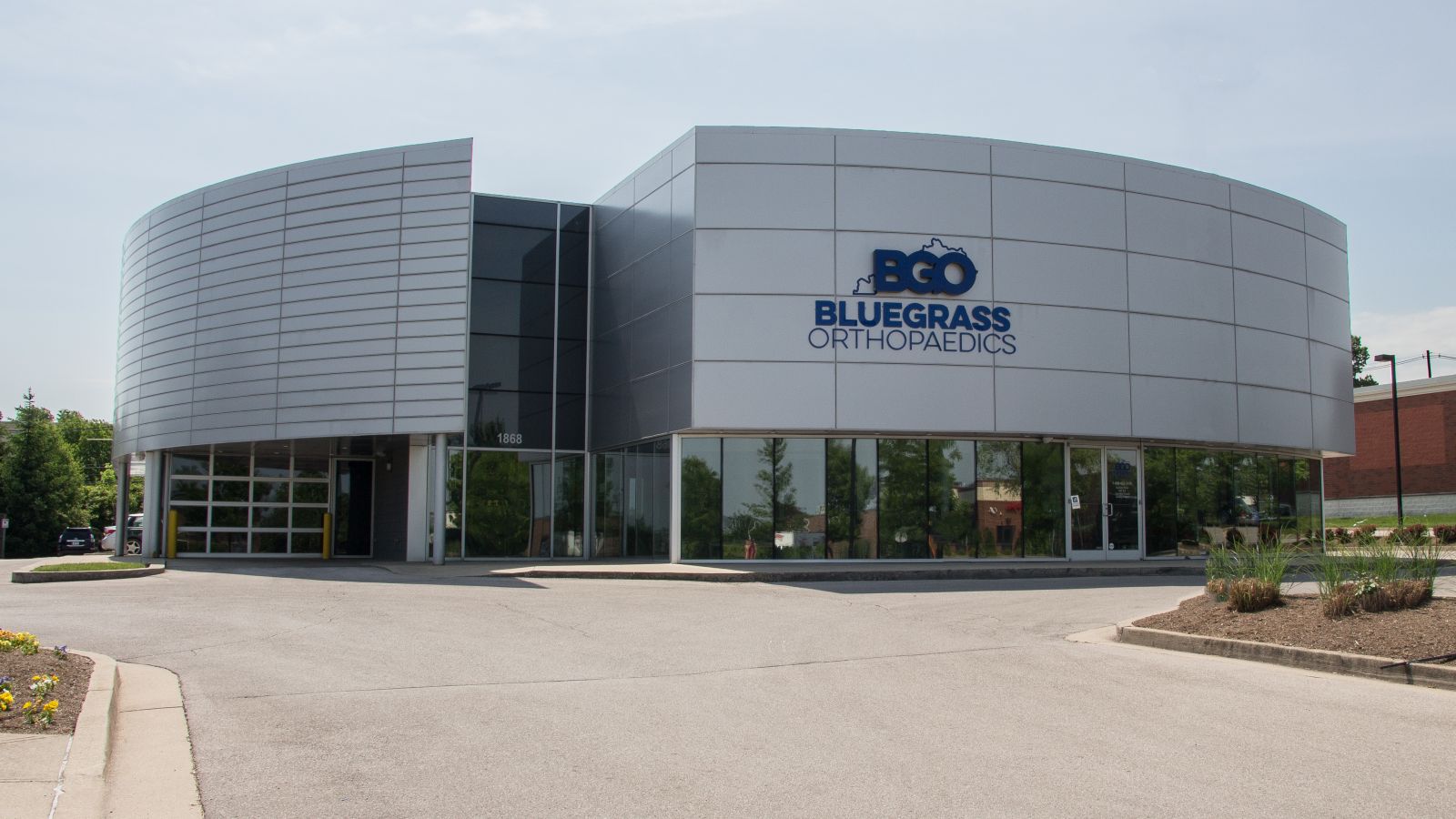 Total Hip Surgery
Lexington KY
Hip pain can often be caused by bursitis, arthritis, a combination of recurrent ligament and muscle problems, chronic inflammation, joint/bursa problems and nerve problems. While some cases may require surgery or hip replacement, our team at Bluegrass Orthopaedics strives to offer effective treatment options for patients suffering from hip pain.

At Bluegrass Orthopaedics, anterior hip replacement surgery is a minimally invasive, muscle sparing surgery using an alternative approach to traditional hip replacement surgery. Traditionally, the hip incision is made laterally, on the side of the jip, or posteriorly, at the back of the hip. Both approaches involve cutting major muscles to access the hip joint. With the anterior approach, the incision is made in front of the hip enabling the surgeon to access the hip joint without cutting any muscles.

The physicians at Bluegrass Orthopaedics have performed hundreds of total hip surgeries in Lexington, KY are on the cutting edge of minimally invasive surgery. Minimally invasive hip replacement has become one of the most common orthopaedic procedures. Unlike traditional hip replacement surgery techniques that require an incision of approximately 8 to 12 inches in length, there are smaller 3 to 4 inch incision alternatives that preserve muscles and tendons around the hip joint to optimize surgical results.

Potential benefits of anterior hip replacement, compared to the traditional hip replacement surgery, may include the following:

Smaller incision
Minimal soft tissue trauma
Reduced post op pain
Faster healing time
Less scarring
Earlier mobilization
Less post-operative restrictions
Reduced hip dislocations
We Can Help
Trust The Best
Total hip replacement surgery in Lexington, KY is a surgical procedure in which the damaged cartilage and bone is removed from the hip joint and replaced with artificial components. The hip is a ball and socket joint comprised of the femur (thigh bone) and the pelvic bone. The head of the femur (ball) articulates with a cavity (socket) called the acetabulum in the pelvic bone. To facilitate smooth and frictionless movement of the hip joint, the articulating surfaces of the femur head and acetabulum are covered by spongy articular cartilage. Injury, wear-and-tear and certain diseases can result in the wearing away of the cartilage tissue, causing painful rubbing of bones.

If you are a candidate for total hip replacement surgery, our experienced team at Bluegrass Orthopaedics in Lexington, KY is ready to provide you with excellent care. Our board-certified physicians are experts in their profession. Throughout your treatment, our patient-support staff will keep you informed. Our rehabilitation teams will provide physical therapy to help you regain your strength so you can live life at your best.

Choose Bluegrass Orthopaedics for your total hip surgery in Lexington, KY:

Experience and expertise counts. Studies show that patients benefit from their surgeon's experience. Our orthopaedic surgeons have performed thousands of hip replacement surgeries.
Patients benefit from our team approach at Bluegrass Orthopaedics.
Our team works together to ensure that you make a complete recovery from surgery.
Success with the most challenging cases. Often, Bluegrass Orthopaedics gets the most challenging hip replacement cases. Many of our patients come to us so that we can correct procedures performed elsewhere.
People of different ages and lifestyles are susceptible to hip problems. Osteoarthritis, the loss of cartilage in the hip joint due to wear and tear, is common among baby boomers and seniors. Young athletes, on the other hand, can suffer from cartilage or ligament tears that can sideline them for months. Our physicians at Bluegrass Orthopaedics have extensive expertise in evaluating and treating hip injuries and disorders.

When it comes to total hip surgery in Lexington, KY, see why more people have chosen Bluegrass Orthopaedics, conveniently located on Richmond Road, in Hamburg and in Georgetown.