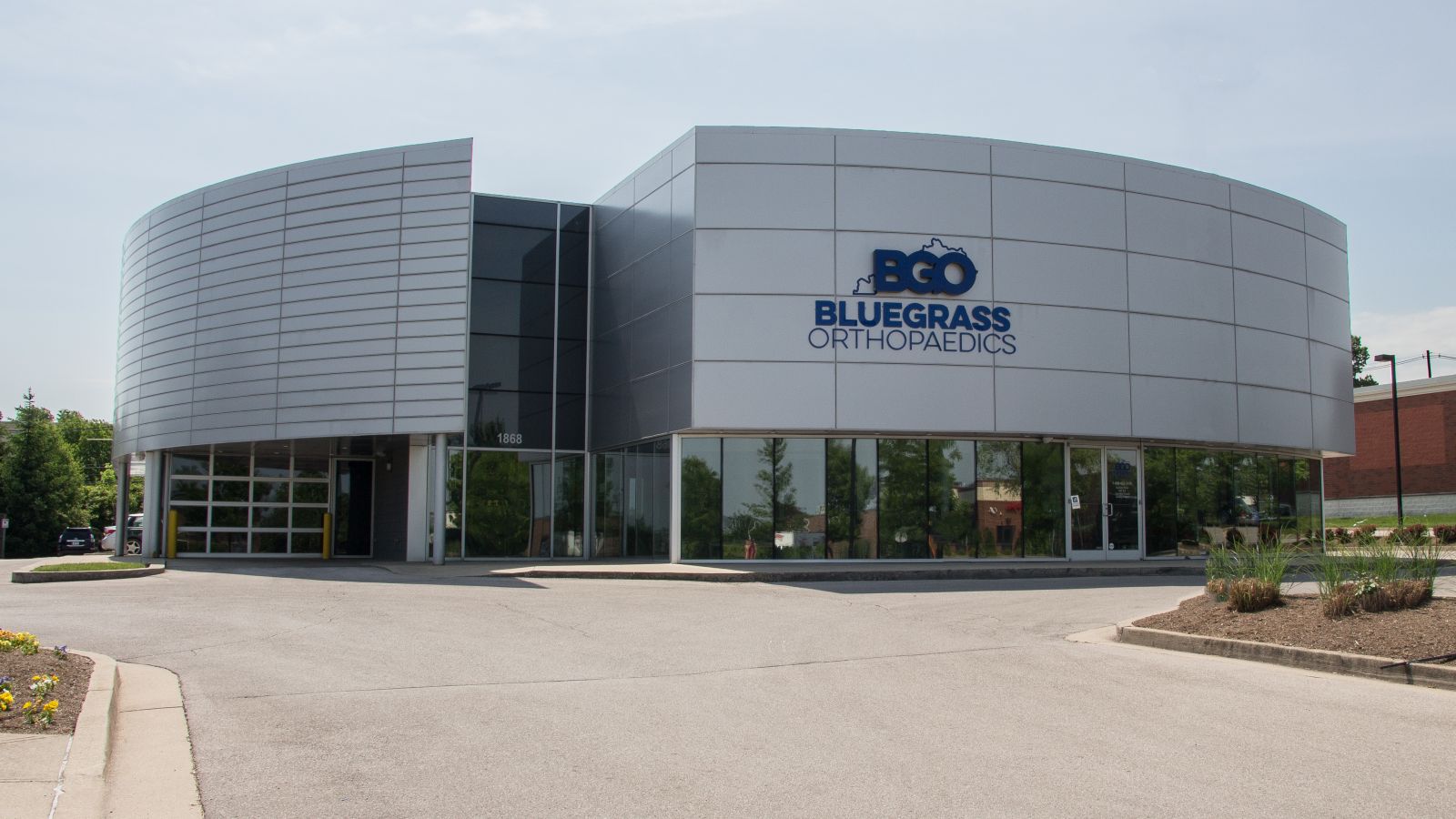 Total Joint Pain
When it comes to total joint pain, Bluegrass Orthopaedics offers a patient focused experience from a team of care professionals that develop a personalized care plan to put you on the path to a pain-free life. Our joint pain replacement program is focused on providing each patient with as much information as possible, from diagnosis through recovery, for long term success.

Many people think osteoarthritis is something in the joint that doesn't belong there. The opposite is true. Osteoarthritis is when the cartilage covering the bone surface is no longer healthy. There are many reasons for it to wear out. Unfortunately, arthritis never gets better. In fact, it typically gets worse with time as the joint continues to wear out. Your body lacks the ability to restore the cartilage and over time the cartilage continues to thin.

The goal of joint replacement surgery is to replace your worn out joint surfaces with an artificial one. By restoring the joint, the inflammation can then improve and in most cases resolve completely. Bluegrass Orthopaedics often offers surgery to those patients who have pain related to a joint that no longer has adequate cartilage on the joint surface and who continue to have pain despite medications.

Joint replacement can help restore your quality of life. As the joint wears out, patients often find themselves slowly letting go of the things they want to do. Activities such as exercising, playing golf, traveling, spending time with family shopping or simply walking the dog become harder and harder. The goal of surgery is to restore the joint. But the goal of restoring the joint is to enable you to continue on with your life without having to think about how much your joint pain might hurt the next day.

Joint replacement is a surgical procedure that can be positively life altering. As technology and techniques have improved, Bluegrass Orthopaedics offers these advancements to help patients not only with day-to-day activities but also allow them to participate in certain recreational activities. If conservative options such as cortisone injections, anti-inflammatory medications and physical therapy are not helpful, joint replacement may be the ultimate option. We use innovative techniques to remove worn and deformed areas of the joint and replace these areas with man-made implants, effectively replacing the entire joint surface. After several weeks in rehab, most patients return to their activities with little or no pain.

We Can Help
Trust The Best
Benefits of outpatient joint replacement:
Our outpatient surgery centers are less intimidating than hospitals.
Less invasive surgical techniques use a tissue sparing approach to minimize damage to the muscle or tendon.
Patients have less scarring and fewer complications.
Patients have a quicker return to mobility and activities.
Improved pain management techniques mean fewer narcotic requirements during recovery.
Less medication results in fewer side effects.
Patients can return home the same day.
A more streamlined procedure means a lower cost to patients.
Bluegrass Orthopaedics joint pain program offers advanced surgical techniques, individualized care and a team of surgeons, nurses and therapists that are focused on relieving your joint pain. Our orthopaedic specialists diagnose and treat painful, arthritic or damaged joints. Our treatments include:
Anterior hip replacement surgery
Total knee replacement
Partial knee replacement
Total hip replacement
Comprehensive joint program
Advanced joint implants
Outpatient joint replacement
Joint replacement is often performed to ease nagging pain and restore motion to knees and hips damaged by disease, injury or age. Most people do not consider surgery a pleasant experience. However, joint replacement surgery can be a positive experience that helps you feel better and move more easily after your recovery. When it comes to total joint pain, our team at Bluegrass Orthopaedics provides the highest quality of care.