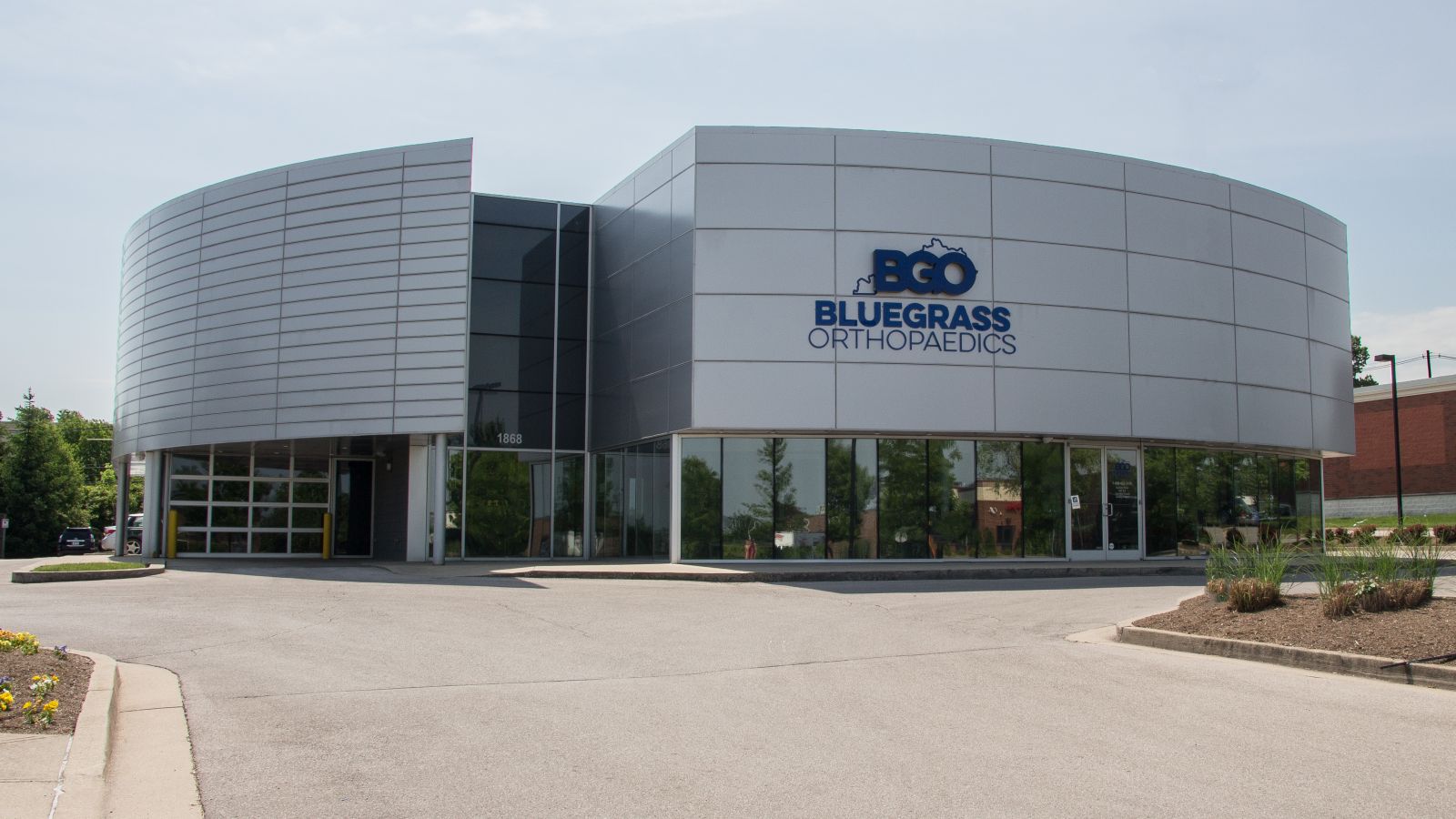 Total Knee Replacement
Lexington KY
At Bluegrass Orthopaedics, we are committed to providing the highest standard of care for patients. Knee problems such as osteoarthritis, also called degenerative arthritis, rheumatoid arthritis and past injury can cause the bone and cartilage in the joint to wear away. This wear and tear can cause joint pain. If nonsurgical treatment has failed, knee replacement surgery may be an option. During a knee replacement, worn-out pieces of bone and cartilage are removed and replaced with metal and plastic. The main goal of this procedure is to reduce knee pain.

When it comes to knee replacement, the experience of your surgeon can make a difference in how well you do after the procedure. Knee replacement surgeons at Bluegrass Orthopaedics are among the most experienced in the region. They have pioneered ways to perform surgery that minimize patients' pain after the surgery.

The orthopaedic surgeons at Bluegrass Orthopaedics perform the following types of knee replacement surgery:

Total or "full" knee replacement
Partial knee replacement, in which case only part of the damaged knee is replaced
Repeat (or revision) knee replacement for past knee replacements that fail
It is well known that total knee replacement is recognized as one of the most successful procedures to be performed. The majority of patients who have total knee replacement go on to live fuller and more active lives free of pain. During primary total knee replacement, we replace the knee point with an implant made from metal and plastic components.

Total knee replacement surgery is commonly indicated for severe osteoarthritis of the knee. Osteoarthritis is the most common form of knee arthritis in which the joint cartilage gradually wears away. This often affects older people. In a normal joint, articular cartilage allows for smooth movement within the joint, whereas in an arthritic knee the cartilage itself becomes thinner or completely absent.
We Can Help
Trust The Best
Total knee replacement in Lexington, KY may be advised by Bluegrass Orthopaedics if you have:

Severe knee pain which limits your daily activities, such as walking, getting up from a chair or climbing stairs.
Moderate to severe pain that occurs during rest or awakens you at night.
Chronic knee inflammation and swelling that is not relieved with rest or medications
Failure to obtain pain relief from medications, physical therapy or other conservative treatments.
A bow-legged knee deformity
Knee replacement surgery relieves discomfort in more than 90 percent of patients. It may be your best option if you have arthritis or if your daily activities are limited due to an injury, pain, deformity or stiffness of the knee. Our specialists at Bluegrass Orthopaedics perform the surgery using the most advanced methods and technology available, so you can trust your care to us. Our leading-edge knee replacements and experienced surgeons help you return back to your life and work quicker with less pain.

A total knee replacement in Lexington, KY may be performed if cartilage damage in the knee has occurred on both sides of the joint or in all three joint components. During the surgery, the damaged part of the knee joint is removed from the surface of the bones and the surfaces are then shaped to match an artificial joint.

Bluegrass Orthopaedics offers replacement surgery for a broad range of knee problems, including:

Arthritis (osteoarthritis and rheumatoid arthritis)
Fractures
Ligament injuries and tears
Sports and work-related injuries
Trauma
Bluegrass Orthopaedics offers a variety of treatments for knee replacement in Lexington, KY. From arthritis to injuries, our expert team of orthopaedic surgeons is skilled in a number of progressive treatments that will keep knees moving like they should.