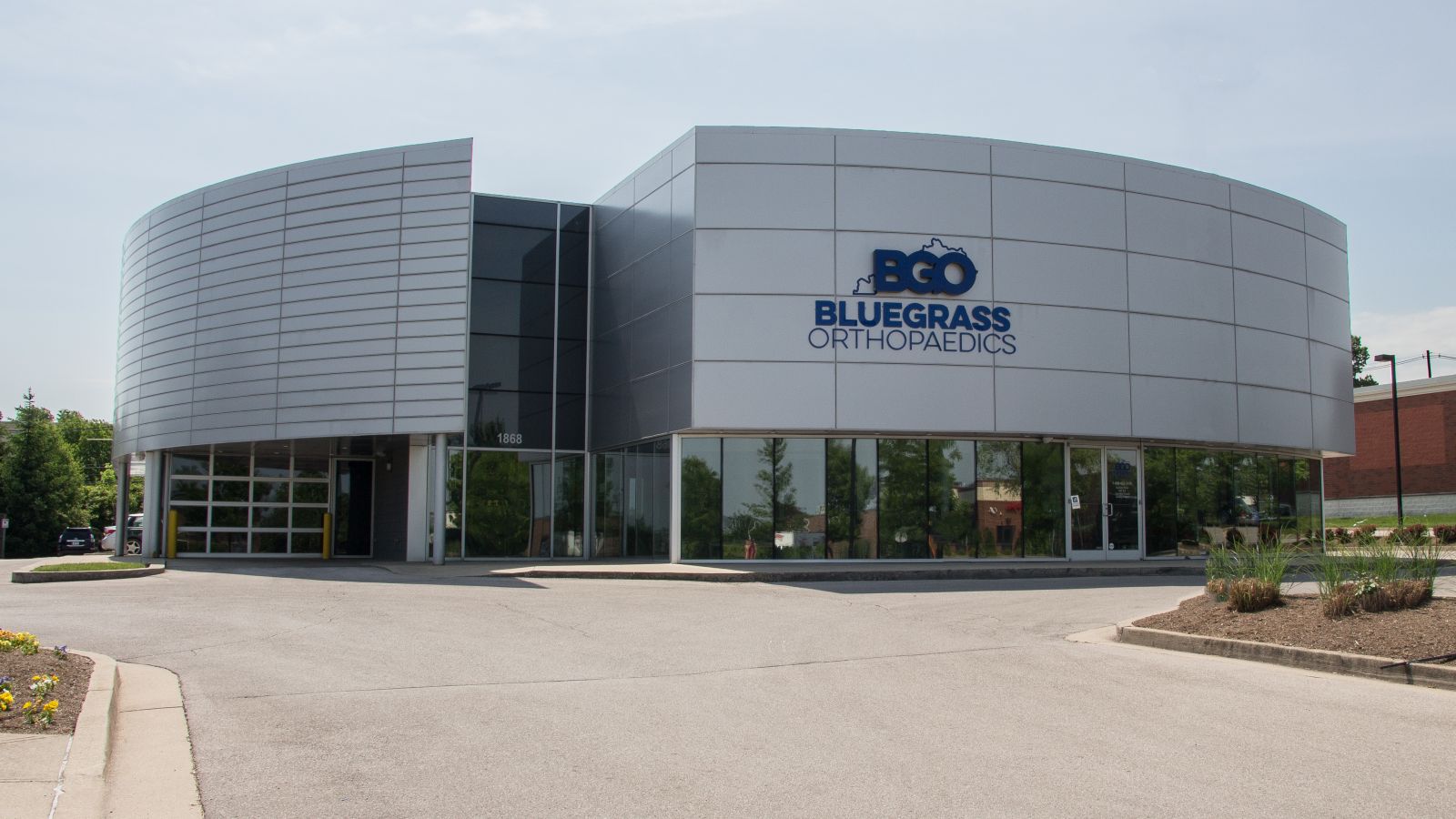 Total Shoulder Surgery
Lexington KY
When it comes to total shoulder surgery in Lexington, KY, the skilled surgeons at Bluegrass Orthopaedics have years of experience. The shoulder and elbow are among the most commonly affected joints in the body. The shoulder is particularly vulnerable to injury, thanks to its wide range of motion. Arthritis, injury and repetitive motions, such as those used during sports or work-related activities, are leading causes of shoulder and elbow pain, stiffness and limited range of motion.

Shoulder replacement is a surgical procedure in which all or part of the glenohumeral joint is replaced by a prosthetic implant. Shoulder replacement can relieve arthritis pain or repair severe physical joint damage.

Some of the most common shoulder and elbow conditions we see at Bluegrass Orthopaedics include:

Arthritis
Fractures
Sprains and strains
Bursitis and tendonitis
Rotator cuff tears
Shoulder impingement
Shoulder instability
Tennis elbow
Golfer's elbow
Bluegrass Orthopaedics will work with you to offer a variety of options, including non-surgical techniques whenever possible. If you need shoulder or elbow surgery, our surgeons are skilled in the latest surgical procedures. Total shoulder replacement surgery is most frequently considered with patients who have osteoarthritis or rheumatoid arthritis. Bluegrass Orthopaedics uses all reasonable, non-surgical alternatives before recommending a joint replacement.

We Can Help
Trust The Best
When arthritis has damaged or destroyed the shoulder joint, it may be replaced with a metal ball and plastic socket. Although there are many different types of shoulder replacements, the damaged surfaces of the bone must be replaced. This surgical procedure is generally considered more difficult and complex and the rehabilitation program is prolonged. However, with a well done procedure, a motivated patient can return to such activities as golf, swimming and tennis with little difficulty.
Your joints are involved in almost every activity you do. Daily activities such as brushing your hair, putting on your clothes or reaching to grab something out of a cabinet require the use of your shoulder. When your shoulder becomes diseased or injured, the resulting pain can severely limit your ability to perform your daily activities and work. The shoulder is a complex ball and socket joint that involves three bones and several key muscles. The three bones that form the shoulder joint are the humerus, scapula (shoulder socket) and the clavicle (collar bone). The shoulder is very unique as it has the greatest range of motion of any joint in the body. The rotator cuff is key in providing stability and balance to the shoulder joint. Proper rotator cuff balance is essential for arm lifting and rotation.

Shoulder revision surgery is sometimes needed if the initial surgery is not effective or if the shoulder continues to degenerate following an earlier repair. Revision surgeries are more complicated as each individual component of the shoulder needs to be examined to ensure a better result. The surgeons at Bluegrass Orthopaedics work closely with our patients to determine the best course of action to relieve pain and improve strength and mobility.

Shoulder problems can occur at any age. Years of use and strains can take their toll leaving individuals with conditions such as stiffness, loss of motion and even arthritis. Young athletes can suffer injuries such as rotator cuff tears, dislocations and separations. If you are suffering from a shoulder condition, you need the very best care available. Turn to the orthopaedic surgeons at Bluegrass Orthopaedics for expert, quality shoulder care. Our surgeons are highly skilled and experienced with total shoulder surgery in Lexington, KY.

Total shoulder surgery can provide pain relief and improved mobility in patients who have not experienced relief from previous attempts to reduce persistent shoulder pain. The orthopaedic surgeons at Bluegrass Orthopaedics may recommend surgery if your shoulder pain and other symptoms do not respond to non-surgical treatments. When it comes to total shoulder surgery in Lexington, KY, the skilled surgeons at Bluegrass Orthopaedics are second to none.