Bluegrass Orthopaedics is proud to acknowledge our latest Comeback Champion - Mrs. Kelly Fitch! A car accident in 1987 led to years of walking incorrectly, an increase in knee pain, and associated osteoarthritis which ultimately led Mrs. Fitch to decide a knee replacement surgery was necessary. An out of town physician performed the surgery, but unfortunately two weeks after the procedure Mrs. Fitch fell at home and sustained a periprosthetic fracture around her joint implant. Without realizing it, Mrs. Fitch walked on this fracture until it was diagnosed. She was sent to the ER and subsequently seen by BGO's joint specialist Dr. Kevin Denehy. The picture below shows the fracture: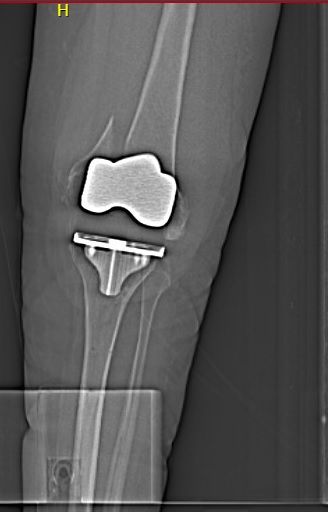 Mrs. Fitch would have to go through another procedure to both fix the fracture but also replace the original implant. She underwent a revision total knee replacement with an open reduction internal fixation (ORIF) of the fracture, as well as a hinged knee prosthesis to replace her prior knee replacement implants. The post-operative X-Ray shows the difference in implant, as well as a stabilized fracture: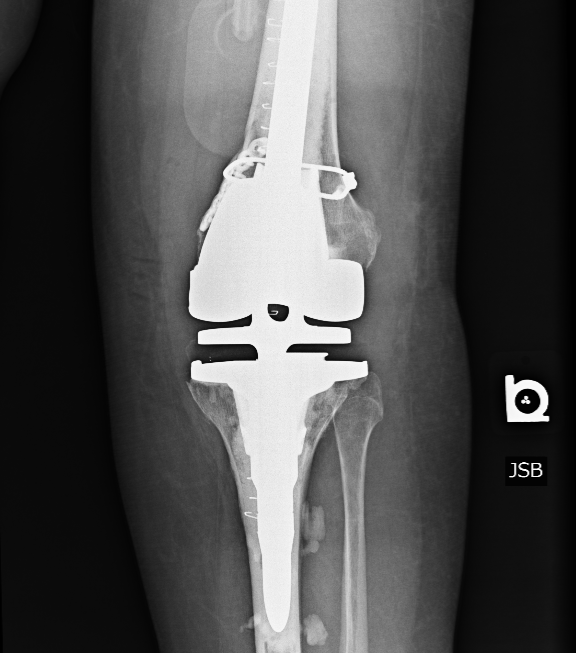 "Following the surgery, Dr. Denehy prescribed physical therapy at Bluegrass Orthopaedics to begin as soon as possible. I began care the next day. Being a rather active person, I knew the exercises but I was unsure if I could perform them. The staff was extremely friendly and knowledgeable, showing great care and concern."
Mrs. Fitch sustained a fairly severe fracture just two weeks after her knee replacement. Without a positive attitude, her hard work, and the team of healthcare professionals surrounding her, she may have not had the same outcome. Mrs. Fitch put her trust in Dr. Denehy and the rehabilitation team at Bluegrass Orthopaedics, and we are grateful for her amazing recovery!

"I was always an active person doing Jazzercise, canoeing, and other physical activities. I am now a gym member too, and continuing the exercises I learned at BGO. My story in a nut shell is this - I went from using a wheelchair to a walker, a walker to a cane, and then a cane to no assistance at all!"
---
To learn more about Bluegrass Orthopaedics' joint specialist, Dr. Kevin Denehy, click here!