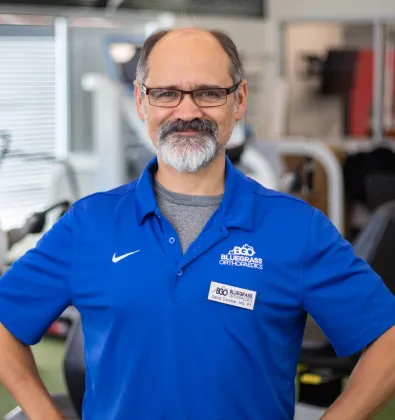 David Escobar, MS, PT, CIDN
Richmond Clinic Director
David Escobar has served the physical therapy needs of the Lexington and South Central regions of Kentucky for 28 plus years. He is a well trained orthopedic manual therapist, & has advanced level certification in Integrative Dry Needling, cupping, & instrument assisted soft tissue mobilization. These skills are used to help clients heal from soft tissue and joint pain and inflammatory conditions. Another area of David's expertise is treating clients with many types of Vestibular Dysfunction such as BPPV, labyrinthitis and vestibular neuritis.

Dry Needling
WHAT IS THE STORY BEHIND "DRY NEEDLING"?
Dry needling (DN) is a treatment strategy commonly employed by many Physical Therapists and other medical professionals whereby solid monofilament needles of varying gauges and lengths are inserted into different soft tissues throughout the body. Click below to learn more!