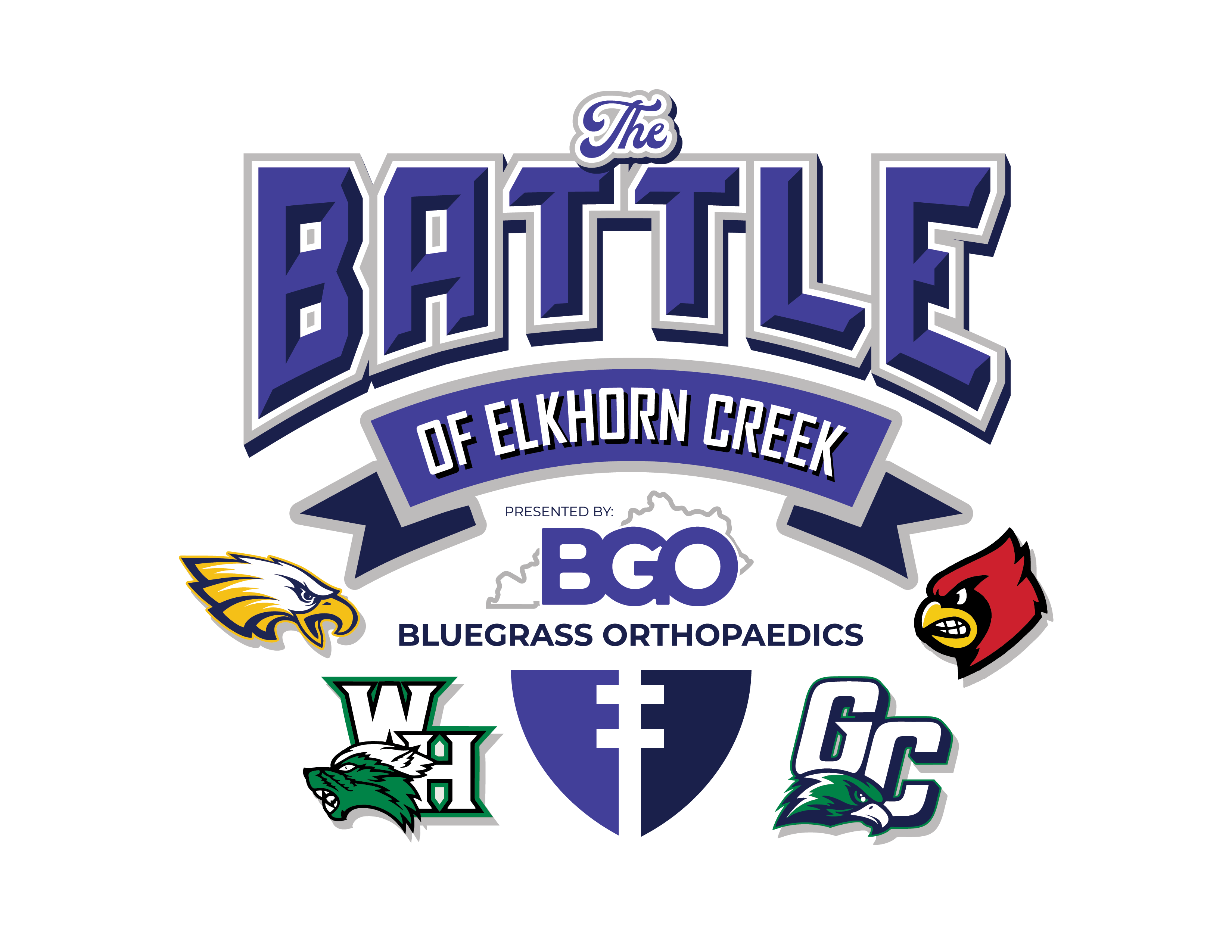 FIRST ANNUAL BATTLE OF ELKHORN CREEK presented by BLUEGRASS ORTHOPAEDICS
FOR IMMEDIATE RELEASE
LEXINGTON, KENTUCKY - Bluegrass Orthopaedics (BGO) is excited to be the presenting sponsor of the first annual Battle of Elkhorn Creek. This new football bowl series will be held on Friday, August 20th 2021 at Birds Nest Stadium in Georgetown, KY. The schedule of games for the evening include Scott County vs Franklin County at 6:00PM and Great Crossing vs Western Hills 30 minutes following the completion of the first game. This annual event, which will alternate sites each year, is possible with the assistance from Bluegrass Orthopaedics and Chick-fil-A.
"Bluegrass Orthopaedics has been committed to the Bluegrass Region for over 25 years. The health and safety of high school student-athletes is of the utmost importance, and our commitment to our local school districts continues through this partnership. We are excited to partner with our local high schools to bring an exciting evening of high school football!" says Andrew Carlson, BGO's Director of Business Development.
Chick Fil A - Georgetown will host a media day on Friday August 13th, with each head coach and selected players interview by local media, along with photo opportunities for schools and media outlets. Further information on that event will be announced closer to the season.
"Chick-fil-A Georgetown, KY is a proud sponsor of Scott County Athletics. We are honored to serve and give back to our local student athletic programs!"
DT Wells, Scott County's District Athletic Director, credits the concept to conversations amongst the school districts. "We are extremely excited to see this bowl game come to a reality. This a collaboration between SCS/FCS, as well as Chick-fil-A and Bluegrass Orthopaedics, with one thing in mind, and that is to have an awesome event that directly benefits the student-athletes involved. With the year that we have had, we are excited to announce this exciting news and plan for a big time event!"
For more information, please visit www.bluegrassortho.com or follow us on Facebook @BluegrassOrthopaedics.
###
ABOUT BLUEGRASS ORTHOPAEDICS
Bluegrass Orthopaedics (BGO) is the largest independent orthopaedic clinic in Central Kentucky, with on-site diagnosis, treatment, and recovery options for every orthopaedic condition. Patients are offered four businesses under one roof - physician medical office, physical therapy, MRI services and outpatient surgery. All of our physicians and physician assistants are professionally trained and are board eligible/certified. BGO wants each patient to feel like they are the center focus. To do so, we combine our commitment of being the most affordable, high quality orthopaedic practice in the commonwealth. Ensuring our time-honored belief that at the core are our values, integrity, respect, and compassion.