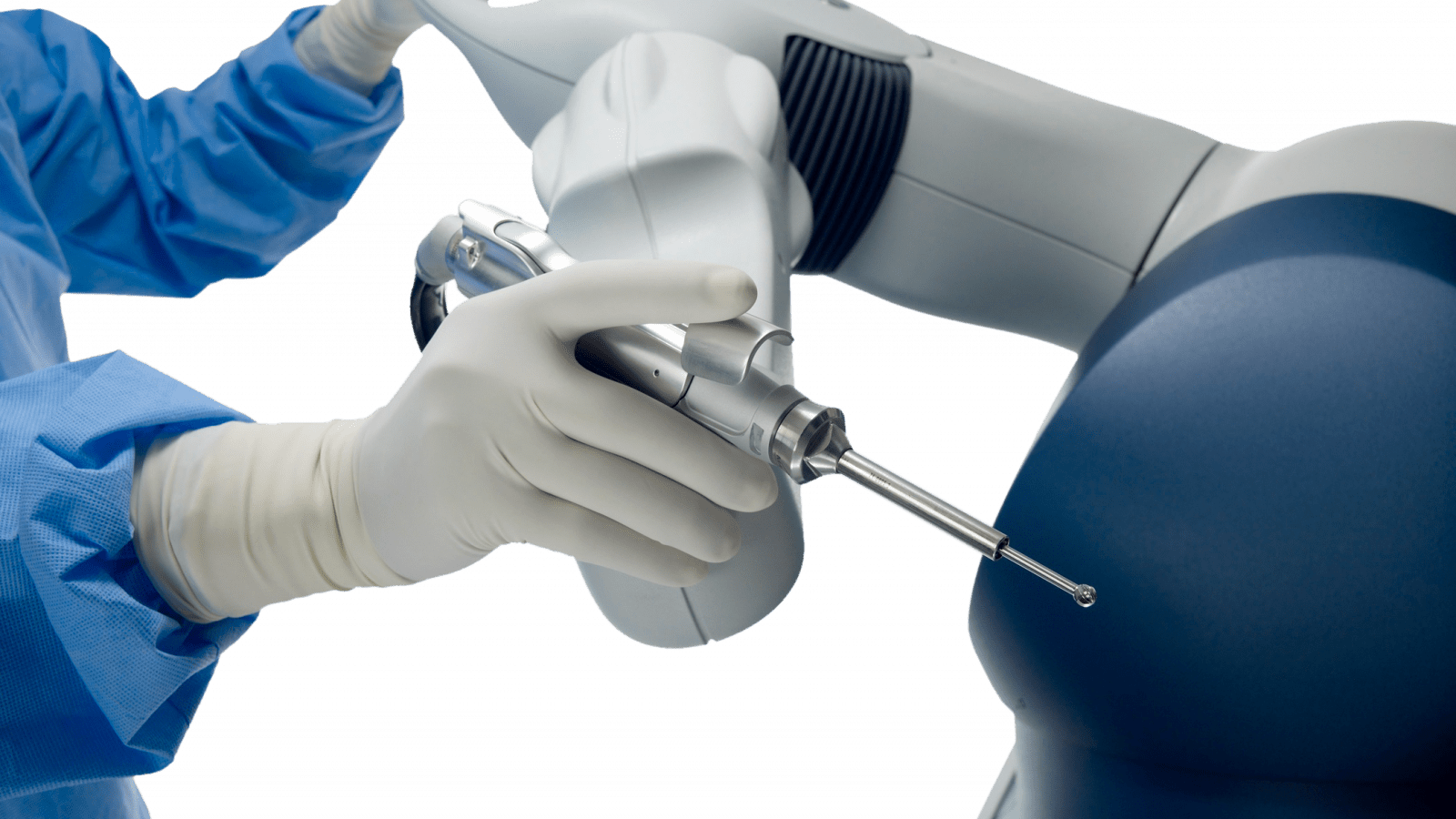 ROBOT-ASSISTED
KNEE REPLACEMENT

BRINGING BACK THE JOY OF MOVEMENT

At Bluegrass Orthopaedics, our knee specialists Dr. Kevin Denehy, Dr. Greg D'Angelo, Dr. Wallace Huff, and Dr. Owen McGonigle are now performing knee replacements using the Mako robotic-arm assisted technology at the Bluegrass Specialty Surgery Center. Robotic-assisted surgery requires advanced training and certification. It provides additional precision, less soft-tissue trauma, less post-operative pain, potentially quicker recovery, better knee function, and improved patient satisfaction.
Check out the research article below, authored by BGO's total joint specialist Dr. Kevin Denehy!
What Are the Benefits of Robotic Surgery?
Minimal trauma to the surrounding tissues
Faster recovery time
Less post-operative pain
Minimal scarring
Outpatient surgery - go home the same day!
Reduced blood loss and need for transfusion
We Can Help
Trust The Best
Mako Robotic-Assisted Videos
BGO & BSSC Welcomes the Mako™ Robot
Mako Robot Patient Testimony
Mako Robotic-Assisted
Total Joint Animation
Mako Robotic-Assisted
Total Joint Patient Testimonial
Mako SmartRobotics™
Key Points
Through CT-based 3D modeling of bone anatomy, surgeons can use the Mako System to create a personalized surgical plan
The only robotic-arm assisted surgical technology with AccuStop™ haptic technology, Mako SmartRobotics™ for knee replacement enables surgeons to limit soft tissue damage by providing visual, auditory and tactile feedback

Mako SmartRobotics™ has been associated with less pain, less need for opiate analgesics, less need for inpatient physical therapy, reduction in length of hospital stay, improved knee flexion and soft tissue protection in comparison to manual techniques.
Total Knee vs. Partial Knee Replacement
Based on the severity of the arthritis in the knee, total or partial knee replacement may be recommended by a surgeon.

Mako SmartRobotics™ for Partial Knee replacement is a treatment option for adults living with early- to mid-stage osteoarthritis (OA) that has not yet progressed to all three compartments of the knee. Depending on where the arthritis affects the knee, patients may have an implant inserted in any of the following areas:
In a unicondylar knee replacement, only one area (or compartment) of the joint is replaced.
A patellofemoral knee replacement replaces the kneecap (or patella) and the grove at the lower end of the thighbone (or femur).
A bicompartmental knee replacement affects two compartments of the knee - the inside (medial) and knee cap.
In comparison, Mako SmartRobotics™ for Total Knee replacement is a treatment option for adults living with mid- to late-stage osteoarthritis of the knee. With a Mako Total Knee replacement, the entire knee joint is replaced, and the surgeon inserts a Triathlon Total Knee implant. With over a decade of clinical history, Triathlon knee replacements are different than traditional knee replacements because they are designed to work with the body to promote natural-like circular motion.
How Mako SMARTROBOTICS™ Works
Personalized Surgical Plan - Before surgery, a CT scan of your knee is taken to develop a 3D virtual model of your unique joint. Your surgeon uses this model to evaluate your bone structure, disease severity, joint alignment and even the surrounding bone and tissue, so he or she can determine the optimal size, placement, and alignment of your implant.
Range-of-Motion Assessment - Throughout your procedure, Mako provides real-time data to your surgeon. This allows him or her to continuously assess the movement and tension of your new joint, and adjust your surgical plan as needed.
Arthritic Bone Removal - In the operating room, your surgeon guides Mako's robotic arm to remove the arthritic bone and cartilage from the knee. A virtual boundary provides tactile resistance to help the surgeon stay within the boundaries defined in your surgical plan.
Implant Placement - With the diseased bone gone, your implant is placed into the knee joint. Then it's off to the recovery room to begin your journey to strengthening your new joint.
We Can Help
Trust The Best
Mako SmartRobotics™ Certified Physicians
References
Anthony I, Bell SW, Blyth M, Jones B et al. Improved accuracy of component positioning with robotic-assisted unicompartmental knee arthroplasty. J Bone Joint Surg Am. 2016;98-A(8):627-35.
Illgen, R, Bukowski, B, Abiola, R, Anderson, P, Chughtai, M, Khlopas, A, Mont, M. Robotic-assisted total hip arthroplasty: Outcomes at minimum two year follow up. Surgical Technology International. 2017 July 25; 30:365-372.
Mahoney O, Kinsey T, Mont M, Hozack W, Orozco F, Chen A. Can computer generated 3D bone models improve the accuracy of total knee component placement compared to manual instrumentation: a prospective multi-center evaluation? International Society for Technology in Arthroplasty 32nd Annual Congress. Toronto, Canada. October 2-5, 2019.
Suarez-Ahedo, C; Gui, C; Martin, T; Chandrasekaran, S; Domb, B. Robotic arm assisted total hip arthoplasty results in smaller acetabular cup size in relation to the femoral head size: A Matched-Pair Controlled Study. Hip Int. 2017; 27 (2): 147-152.
Haddad, F.S, et al. Iatrogenic Bone and Soft Tissue Trauma in Robotic-Arm Assisted Total Knee Arthroplasty Compared With Conventional Jig-Based Total Knee Arthroplasty: A Prospective Cohort Study and Validation of a New Classification System. J Arthroplasty. 2018 Aug;33(8):2496-2501. Epub 2018 Mar 27.
Hozack WJ, Chen AF, Khlopas A, et al. Multicenter analysis of outcomes after robotic-arm assisted total knee arthroplasty. Presented at: The Knee Society (TKS) 2018 Members Meeting; September 20-22, 2018; Saint Louis, MO.
Banks, Scott A, PhD. Haptic Robotics Enable a Systems Approach to Design of a Minimally Invasive Modular Knee Arthroplasty. Am J Orthop. 2009;38(2 suppl):23-27. February 2009.
Hampp E, Chang TC, Pearle A. Robotic partial knee arthroplasty demonstrated greater bone preservation compared to robotic total knee arthroplasty. Annual Orthopaedic Research Society. Austin, TX. 2-5 Feb 2019.