Bluegrass Orthopaedics is proud to acknowledge our latest Comeback Champion - Mr. Justin Durham. Mr. Durham has been active his entire life, but unfortunately his shoulder continued to cause him pain. "I am really big into fitness, and I had been robbed of being able to live the life I once had. I was in constant pain!", Justin remembered.
After a failed shoulder surgery two years prior, Justin was referred to BGO's shoulder and elbow specialist Dr. Ryan Donegan. Upon examination, his x-rays demonstrated slight narrowing at the glenohumeral joint consistent with early glenohumeral arthritis. His MRI showed significant thinning of the glenohumeral articular cartilage with surrounding edema (swelling). Essentially, Justin had early stage glenohumeral arthritis and surrounding labral injury, with secondary complaints of numbness in his hand. "Within 5 minutes of meeting Dr. Donegan, I knew this was who I wanted to care for my shoulder. He told me what to expect, and told me he would be with me every step of the way. I trusted him, and I am glad I did!"
Dr. Donegan began his treatment with an ultrasound guided injection in his shoulder and evaluation of the numbness in his hand. After an EMG and further evaluation by BGO's hand specialist, Dr. Favetto, it was determined that the numbness in his hand was due to his poor scapulohumeral motion and posture.
This was beginning to be a complex case when the injection failed to improve Mr. Durham's pain and he continued to have limited activity. Upon lengthy conversations, Dr. Donegan and Mr. Durham agreed that a cartilage restoration procedure would not be indicated, but rather a stemless hemiarthroplasty with a ream and run would be the best procedure for Mr. Durham and his lifestyle.
"I told him that this type of procedure requires a highly motivated patient, in addition to a year of recovery", stated Dr. Donegan. Nonetheless, Mr. Durham was ready and scheduled his procedure for October 10th, 2019.
"Here it is, August 22nd of 2020 and I feel amazing. I am starting to feel comfortable to get back to the life of fitness that I love. The physical therapy I had with BGO was top notch - and I owe a lot to Liz Ellis. Starting off was a little rough because I was so weak, but she pushed me to be better every session. She is an amazing person and magnificent physical therapist. I couldn't be more happy with the results I received from BGO. I can't thank them enough to help me get my life back. I am ready to start throwing the weights around again!"
BGO proudly serves athletes of all ages, and Mr. Durham put his trust in BGO's shoulder specialist Dr. Ryan Donegan and physical therapist Liz Ellis, PT, DPT. See the image below of his post-surgery x-ray and new shoulder!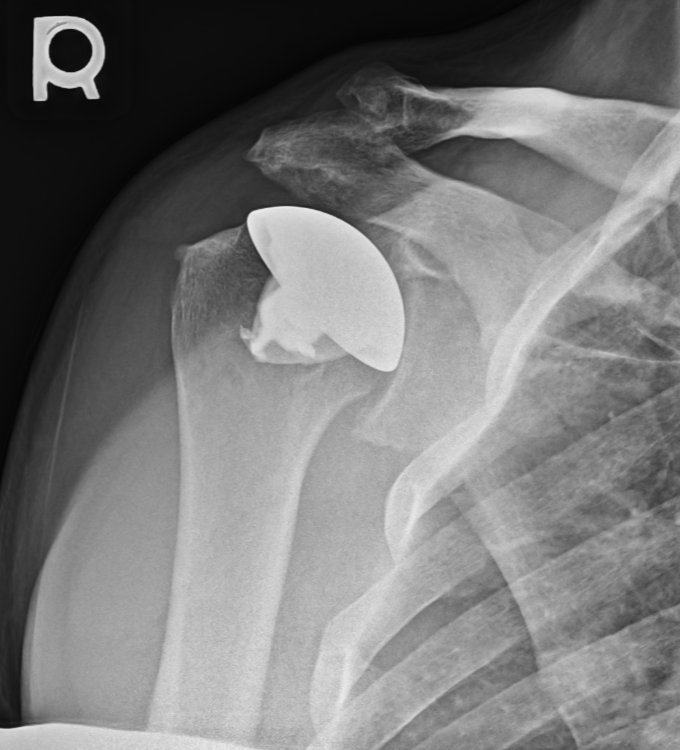 Liz Ellis, PT, DPT had this to say about Mr. Durham's recovery:

"It has been my absolute pleasure to get to work with Mr. Durham. He is hard working and super motivated. I was happy to help him get back to his active lifestyle and the things he loves to do. I can't be more proud of the progress he has made and will continue to make. He did all the hard work, I was just there to guide him on his road to recovery."

To learn more about our shoulder and elbow specialist, Dr. Ryan Donegan, please click here!