Bluegrass Orthopaedics is proud to acknowledge our latest Comeback Champion - Mr. Tim Dawson. As a police officer, the physical demands of Mr. Dawson's job are high. His body needs to be in great physical shape, but shoulder pain has become an issue for him in recent years.
"I began seeing Dr. Donegan after being told several times by my treating physician that there was only mild arthritis in my shoulder, even though an MRI showed a tear in the rotator cuff. Dr. Donegan tried his best to keep me out of surgical procedures, but we ultimately decided that after a few months of therapy and conservative treatment, an exploratory surgery of my shoulder was needed."
Officer Dawson had surgery performed in December of 2019, which found a larger tear than what was originally seen on the MRI. The rotator cuff was fixed, and the recovery process would begin.
"Fast forward from December 2019 to today, I feel almost completely back to normal. Not only do I owe a lot to Dr. Donegan for repairing the tear, but I also owe a lot to two Bluegrass Orthopaedics physical therapists - Liz Ellis and Dave Escobar. If it weren't for Liz and Dave pushing me every day, I'd still be in therapy. I owe them a lot - from Liz making sure I stuck to the program and doing what's required, to Dave coming to my home in the height of pandemic and making sure I still received quality therapy."
"In my opinion, Liz and Dave went that extra mile for me as I saw them do with all the other patients in their care. As painful as it was sometimes, if I had to do it all over again, I would want the same team to work with me again. They have all earned my trust and gratitude for a job very well done!"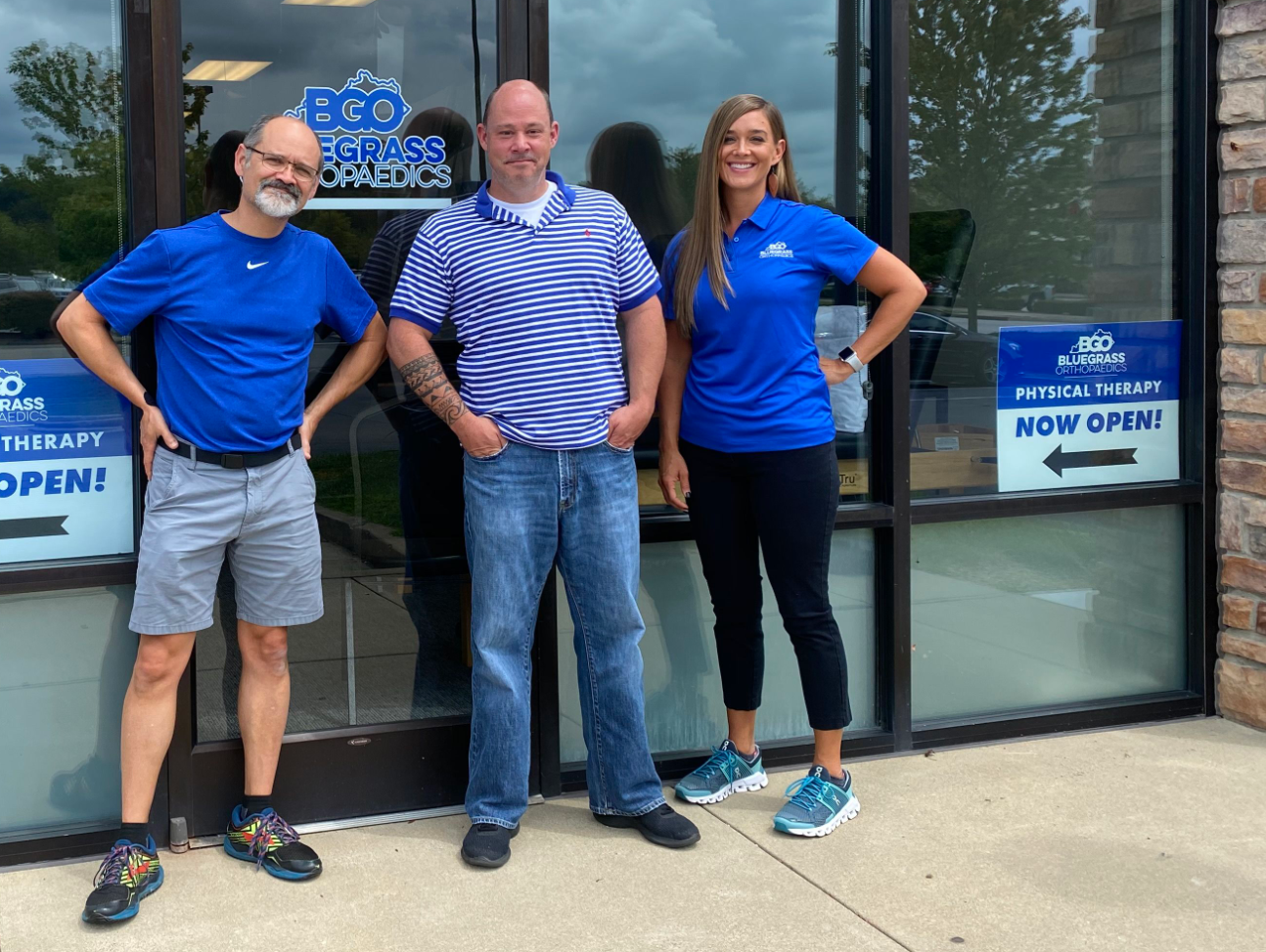 BGO proudly serves athletes of all ages, and Mr. Dawson put his trust in BGO's shoulder specialist Dr. Ryan Donegan, and physical therapists Liz Ellis, PT, DPT and David Escober, MS, PT, CIDN.

Liz Ellis, PT, DPT had this to say about Mr. Dawson's recovery: "

It has been my absolute pleasure to get to work with Mr. Tim Dawson. He is one of the most determined, fun, and hard working patients. He always came in ready to work, had a great attitude and had such positive energy that he encouraged other patients while in clinic that were going through their own rehab process. This was his third shoulder surgery and he has made amazing progress with his rehab and is now able to get back to work being a K9 police officer and doing the things he loves to do on his spare time. It was my honor to help in his rehab process along the way. We will miss seeing him weekly and hearing his stories."

To learn more about our shoulder and elbow specialist, Dr. Ryan Donegan, please click here!