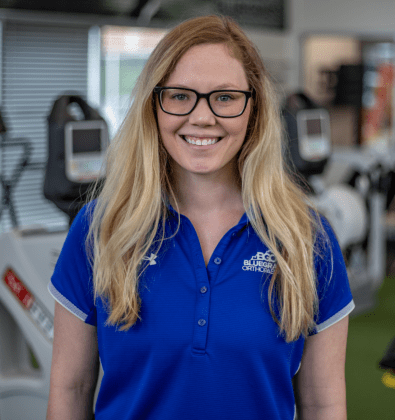 Alyssa Hoagland, OT
Occupational Therapist
Alyssa was born and raised in Louisville, KY. She attended the University of Louisville where she obtained her Bachelor's degree in Exercise Physiology. Soon after, she furthered her education by pursuing a Master's degree in Occupational Therapy. During her time as a student she found her niche and passion while on her Level 1 clinical rotation at an outpatient hand clinic. The variety of diagnoses seen, the many different types of splints, the challenge of knowing and applying hand anatomy, and the gratification of seeing progress in patients made it very clear to Alyssa that hand therapy is what she wanted to do.
Immediately post graduation she landed her dream job working in hand therapy with being mentored by a experienced Certified Hand therapist (Karen Clark). She has been with BGO since 2018 and is excited to begin her career on track to become a Certified Hand Therapist. During her free time Alyssa enjoys hot yoga, climbing, hiking, running, and winter skiing.